Thomas G. Sinas
Tom Sinas is a trial lawyer who has spent his career serving the public and advocating for the injured. As a partner at Sinas Dramis Law Firm, he manages the firm's downtown Grand Rapids office and is dedicated to serving his home community of West Michigan.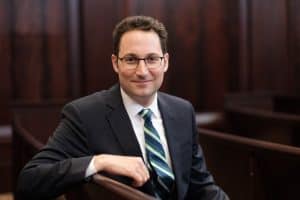 While Tom's expertise is far-reaching, he focuses his practice primarily on personal injury and wrongful death litigation, auto negligence cases, and Michigan auto no-fault law. In particular, he helps ensure individuals involved in Grand Rapids car accidents are on a level playing field with the insurance companies on the other side of a case. Over the years, Tom has acquired a unique skillset working with those suffering from spinal cord injuries and traumatic brain injuries (TBIs).
Tom's journey to his current position gave him opportunities to develop a unique perspective on being a lawyer.
"I grew up not only as the son and grandson of leaders of this law firm, but also surrounded by many of the lawyers with whom I now have the privilege of working alongside. Those lawyers taught me two key lessons: first, there is nothing more valuable than one's good health, and, second, there is no greater privilege as a lawyer than advocating for those whose good health has been taken from them."
But Tom's first professional pursuit was not law – it was music. He started playing guitar at age 7 and ultimately attended the University of Michigan where he earned degrees in Economics and Jazz Studies. Tom later came to understand the transcendent nature of that education.
"My training as a musician was as important as my education in law school. My music mentors taught me two rules that inform everything I do now as a lawyer: first, there is no substitute for thorough preparation, and, second, those who excel at any craft are those who constantly seek to improve their skills." 
Tom obtained his law degree from University of Minnesota Law School, graduating magna cum laude. After law school, Tom practiced with a national law firm in Minneapolis, where he represented catastrophically injured individuals and their families. He was then selected to join Minnesota's premier state prosecution office on a special assignment to prosecute complex financial crimes. In 2013, Tom and his family returned to Michigan to continue the proud tradition of Sinas Dramis Law Firm, which was founded by his grandfather in 1951. Tom, his wife, and two children settled in the Grand Rapids' historic Heritage Hill neighborhood, and Tom formally opened the firm's downtown Grand Rapids office. He has tried to verdict civil and criminal cases in several Midwestern states, facilitated multiple million-dollar settlements, and lectured and authored numerous articles on trial practice and substantive law.
Tom is committed to serving the West Michigan community both in and out of the courtroom. He regularly appears on Fox 17's "Know the Law," where he discusses legal issues that affect Grand Rapids residents, such as auto no-fault insurance coverage and the dangers of distracted driving. Each year, Tom and his staff coordinate Grand Rapids "Lids for Kids" – a free bicycle helmet fitting and giveaway event. Tom also serves on the Executive Committee and Board of Directors at the Brain Injury Association of Michigan (BIAMI), and he has held leadership positions at the Grand Rapids Bar Association and the Kent County Legal Assistance Center. In 2019, Tom won a contested State Bar of Michigan Board of Commissioners position and will serve West Michigan in this role through 2022.
What Tom's Clients Say
After a serious auto-related injury as a pedestrian, Tom Sinas did an excellent job representing me. He provided easy to understand information about my rights and options, knowledgeable guidance about how the Michigan no-fault auto insurance law affected me, and the professional legal expertise necessary to obtain a successful personal injury settlement. Working with Tom was a very positive experience for me and my family. –Diane

Tom did an amazing job with us. He went above and beyond to prepare us... and made sure we understood each step that was ahead. I would definitely recommend Tom to anyone who needs help. You can tell he cares about you as a person, and he wants the best for you... my husband and I felt such relief knowing Tom would do his absolute best. We felt Tom definitely went above and beyond.–Tricia

My mother was injured in a car accident. She suffered some significant injuries and the insurance company was not helpful. A personal friend suggested that I contact Tom Sinas. Once Tom was involved, her care and treatment dramatically improved and we were able to concentrate on her recovery and not worry about the insurance. I give Tom my highest recommendation.–Jack

I am the mother of two boys seriously injured in a motor vehicle accident. I am also an attorney. I hired Thomas after asking several attorneys for referrals. Thomas did an excellent job handling the situation with respect and compassion and was able to obtain a fair settlement for my sons... I would highly recommend Thomas.–Lisa

Tom Sinas and his paralegal performed superbly handling [my] difficult and complex insurance no-fault liability claims. Processing my case involved multiple providers and injuries, an out-of-state accident, and keeping track of insurance issues over a 2 1/12 year time table. –Janice

I cannot recommend Thomas Sinas enough as a personal injury lawyer. We started working with him after I was left with a severe injury following an accident. When we met Thomas, we were very fearful about my situation but his calm attitude and professionalism helped reassure us. He walked us through all of the steps of the injury process and he worked extremely hard to make sure that we were taken care of. –Anonymous

I had a pleasure working with Tom. He is very knowledgeable in his field of work. He was very dependable and very quick to answer any of my questions. He kept me informed with everything that was going on. I would definitely recommend him.–Stephanie

My view of lawyers has forever been changed by the year and a half I spent working with Thomas Sinas. Tom is an honest individual who truly cares for your situation and communicates clearly all options, the good, the bad, and the ugly ones. Never pressuring, and even respecting if I was in disagreement and taking the time to understand why. It truly was a team sport with a top of the chart lawyer on my side. I have and will continue to recommend Tom Sinas to anyone. –LM

Thomas helped us settle a wrongful death suit for our mother. He was very helpful, always returned my calls and explained all the steps. Thomas picked up my case after another lawyer dropped the ball. He saw it to the very end with a good settlement. I had to do very little, he did it all. Very professional and I would highly recommend him.–Susan

Tom Sinas and his amazing associates and staff were caring, compassionate and professional from the first moment we spoke. Tom is extremely thorough... When we spoke or met, it was very obvious that I was his main concern. Tom helped me believe in myself, and I still carry that confidence with me today. –Amy

Tom assured us there was light at the end of the tunnel. Throughout the course of our consultations, I came to know Mr. Sinas as an extremely knowledgeable and experienced bike accident attorney. His approach was realistic coupled with optimism... I appreciate his office for being approachable, extremely professional, and pushing relentlessly for the success of our settlement with the insurance company. I can't thank them enough. Highly recommend!–Loretta
Practice Areas
Grand Rapids car accidents, bicycle accidents, pedestrian accidents, motorcycle accidents, semi-truck accidents, wrongful death, spinal cord injuries, brain injuries, other personal injury cases
Professional Associations
State Bar of Michigan – Board of Commissioners, 2019 – 2022
Brain Injury Association of Michigan (BIAMI) – Board of Directors, 2015 – present
Grand Rapids Bar Association – Former Trustee
Legal Assistance Center – Past President
Justice Foundation of West Michigan – Past Committee Member
Coalition Protecting Auto No-Fault (CPAN) – Associate General Counsel
Michigan Association for Justice – Member
State Bar of Michigan
Publications
2020
Making Smart Choices: A Summary Guide to the New Auto No-Fault Law" – co-authored with George Sinas and Stephen Sinas, an in-depth guide to consumer choices under the 2019 reformed auto no-fault law
Out of State But Not Out of Mind – Grand Rapids Lawyer
The End of Psychological Exams by No-Fault Insurers – Grand Rapids Lawyer
2019
Navigating the Chaos: The New No-Fault Legislation – co-authored with George Sinas and Stephen Sinas
When Chaos Devolves into Anarchy: the Hot Mess of Public Acts 21 and 22 – Grand Rapids Lawyer
You're Either In or You're Out: Determining Dependency in Survivor's Loss Claims – Grand Rapids Lawyer
Auto No-Fault Threshold: Peace At Last? – Grand Rapids Lawyer
Remembering Your No-Fault Priorities – Grand Rapids Lawyer
Don't Be Fooled by the Insurance Industry's Shiny Objects – Grand Rapids Business Journal
Remembering Your No-Fault Priorities – Grand Rapids Lawyer
2018
Michigan's Quirky Expert Deposition Rules, Grand Rapids Lawyer
Notice of a No-Fault Claim: Michigan Supreme Court Chooses Simplicity over Complexity, Grand Rapids Lawyer
New Stirrings in Auto Threshold Law, Grand Rapids Lawyer
Michigan Supreme Court: Insurers Have No Absolute Right to Rescission, Grand Rapids Lawyer
Res Ipsa and Spoliation: A Dangerous Combination, Grand Rapids Lawyer
Written Notice and Statutes of Limitations, Michigan Civil Procedure, Second Edition
2017
Excess Economic Loss in Auto Liability Cases: Remembering the Fundamentals, Grand Rapids Lawyer
Covenant Medical Center v. State Farm: A Sea Change in Michigan's Auto No-Fault System, Grand Rapids Lawyer
A Midwestern Traveler's Thoughts on Jury Selection Logistics, Grand Rapids Lawyer
Understanding the Whole Injury, Innovative Health Magazine
Yes, there is a Threshold–And It's Working, Grand Rapids Lawyer
Adverse Medical Examinations in Personal Injury Cases: Following the Rules, Grand Rapids Lawyer
2016
Kalamazoo shootings should put brakes on Uber's legislative agenda in Lansing, Bridge Magazine
A New Lifeboat for Medical Providers Adrift in the No-Fault Sea, Grand Rapids Lawyer
A New Frontier in the Wild West of ERISA Litigation, Grand Rapids Lawyer
A Stitch in Time: Supreme Court Softens the One-Year Notice Rule in PIP Cases, Grand Rapids Lawyer
You Are What You Plead: Michigan Supreme Court Clarifies District Courts' Subject Matter Jurisdiction, Grand Rapids Lawyer
Reasonable Proof: It's Simpler than You Think, Grand Rapids Lawyer
Beware of the Family 'Step-Down' Auto Insurance Clause, Michigan Lawyers Weekly
2015
Abuse of no-fault law happens on both sides, hurts victims, Bridge Magazine
Auto no-fault reform is anti-jobs, anti-free market, anti-Michigan, Grand Rapids Business Journal
When Publication Leads to Clarification, Grand Rapids Lawyer
The Michigan Auto No-Fault Law: Your Rights & Benefits, 8th edition (co-authored with George Sinas and Stephen Sinas)
Michigan Supreme Court Affirm Mind-Body Connection – Grand Rapids Lawyer
Don't Overlook the Intentional Auto Tort – Grand Rapids Lawyer
Standing Strong: Michigan Court of Appeals Affirms Medical Providers' Rights to Sue No-Fault Insurers – Grand Rapids Lawyer
2014
There's One Important Question Left Out of Grand Rapids' Airbnb Discussion, The Grand Rapids Press/MLive
Uber Raises Public Safety Concerns, Lansing State Journal
A Quick Guide to Michigan No-Fault Law (co-authored with George Sinas)
A Judicially-Created Disqualification from No-Fault Benefits – Grand Rapids Lawyer
A New Trap for the Unwary No-Fault Lawyer – Grand Rapids Lawyer
2013
"Texts, Lies, and Identity Theft: Prosecuting Complex Financial Fraud with Minnesota's Racketeering Statute", William Mitchel Law Review
2010
Professionalism in Medicine: A Case-Based Guide for Medical Students (book), contributing author
Damages Questions on the Special Verdict Form, Journal of Minnesota Association for Justice
2008
Using the Internet Archive to Investigate and Strengthen Your Case, Journal of Minnesota Association for Justice
Speaking Engagements
2020
"Michigan's New Auto Insurance Law: The Bottom Line, Town Hall with CPAN, March 2020
Auto No-Fault Presentation, Grand Rapids Round Table, March 2020
2019
"Michigan No-Fault Reform: Understanding the Controversy," People's Law School
"The Current State of Auto No-Fault Insurance," BIAMI Fall Conference
"Auto-Owners v. Compass Health," MBIPC Bootcamp
Auto No-Fault Presentation – shared changes to the state's no-fault law to Teter Orthotics and Prosthetics Inc.
Auto No-Fault Presentation – explained the new no-fault law to members of CPAN
"Peace at Last? Third-Party Auto 2019 Update," ICLE No-Fault Summit
2018
"Development and Trial of a Negligent Entrustment Case," Michigan Association for Justice No-Fault Institute
"Personal Injury Damages," National Association for Legal Assistants Webinar
"Covenant: One Year Later," Michigan Adjusters Association
"Escape from Litigation Island," Coalition Protecting Auto No-Fault Annual Meeting
"The Ongoing Impact of the Supreme Court's decision in Admire v Auto-Owners," Michigan Brain Injury Provider Council 3rd Annual Auto No-Fault Boot Camp
"Workshop on Provider Litigation in the Post-Covenant World,"  Michigan Brain Injury Provider Council 3rd Annual Auto No-Fault Boot Camp
"Third-Party Threshold Litigation," Institute for Continuing Education No-Fault Institute

2017
"How Does Covenant Affect Existing Provider Cases?" Michigan Brain Injury Provider Council 2nd Annual Auto No-Fault Boot Camp
"Provider v. Patient Lawsuits: What Are the Rules?" Michigan Brain Injury Provider Council 2nd Annual Auto No-Fault Boot Camp
"Third-Party Threshold Litigation," Institute for Continuing Litigation 4th Annual No-Fault Summit
2016
"Proving Life Impact in Threshold Cases: Judicial References and Medical Research," MAJ No-Fault Institute
"Uber and Other Ridesharing Services," MAJ No-Fault Institute
"The Enemy Within: Third-Party Mini Update," Michigan Association for Justice Annual Meeting
"Multiple Threats: Auto No-Fault Law Update," 31st Annual Western Michigan Brain Injury Network Symposium
"Michigan Auto No-Fault for Medical Professionals," Mary Free Bed Rehabilitation Hospital Spinal Cord Symposium
"Third-Party Threshold Litigation," 3rd ANnual No-Fault Summit (ICLE)
The Dire Consequences of D Insurance (SB 288) – 31st Annual Western Michigan Brain Injury
2015
"Intersection: The Sharing Economy and the Law," NALS Membership Meeting
"Overview of the Michigan No-Fault Law," MANS Meeting 2015: Navigating a Changing Neurosurgical Landscape
"Auto No-Fault Update," CPAN Town Hall
"Auto Law 101," CPAN Advocacy Training Workshop
"Preparing the Medical Professional for a Deposition," Brain Injury Association of Michigan 2015 Legal Conference
2014
"Rules of the Road: Michigan Auto Law," People's Law School
"Admire v. Auto-Owners Ins. Co.," Michigan Supreme Court Judicial Conference
"The Admire Problem," Michigan Association for Justice
"Auto Law 101 and Pending No-Fault Legislation," Mary Free Bed Patient Advocate Advisory Council
"A Legal Analysis of the Admire Problem," CPAN Admire III Workshop
"Auto Law 101," "Let Our Voices be Heard" CPAN workshop
2013
"Criminal Law," People's Law School
"Racketeering Forfeiture," Financial Crime Training
"Beyond Admire: Recent Court of Appeals Decisions Regarding the Everyday Living Needs of Catastrophically Injured," CPAN: Admire II Workshop
2012
"Mortgage and Real Estate Fraud," Minnesota Sheriff's Association/Law Enforcement Training Service
2009
"To Answer or Not to Answer: Legal Arguments for and Against Requiring the Jury to Answer the Damage Question," Minnesota Association for Justice Annual Convention
2008
"Going Back in Time: Using the Internet Archive," American Association for Justice Mid-Year Convention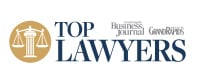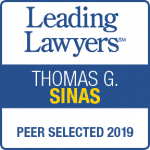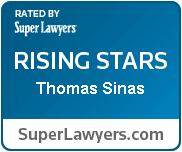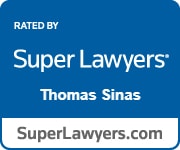 Awards & Recognition
Grand Rapids Top Lawyers – Grand Rapids Magazine, Grand Rapids Business Journal – 2019
Michigan Super Lawyers – 2019
Michigan Super Lawyers "Rising Star" – 2015 – 2018
Leading Lawyers, Peer Selected – 2018, 2019
"Up & Coming Lawyer", Michigan Lawyers Weekly – 2016
"Prevention Award", Brain Injury Association of Michigan – 2016
Clients' Choice Award, AVVO – 2014-2016
Excellence Award, American Association for Justice, New Lawyers Division – 2008
Best Brief Award, University of Minnesota Law School – 2004
Education
B.A., University of Michigan – Economics, 2001
B.F.A, University of Michigan – Jazz Studies, 2001
J.D., University of Minnesota Law School, 2006
Admissions
Michigan, 2013
Minnesota, 2006
Connect with Tom Sinas

 tomsinas@sinasdramis.com