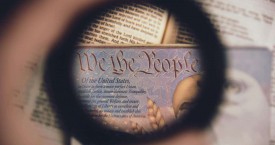 In honor of Constitution Day 2018 which was on September 17, Grand Rapids personal injury attorney, Tom Sinas, explains the First Amendment on Fox 17 Know the Law. This amendment protects our rights to freedom of speech, religion, and of the press, but is often misunderstood.
First Amendment – the Right to Free Speech
Here is a refresher on how the First Amendment is written, in honor of Constitution Day 2018:
"Congress shall make no law abridging the freedom of speech or the press, or the right of the people peaceably to assemble, or petition the government for redress of ...
Continue Reading →