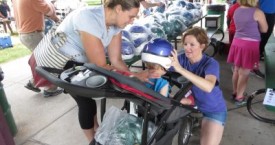 Hundreds of Grand Rapids families came out on a hot and steamy day for our annual Lids for Kids bike helmet giveaway and bicycle safety event.
When all was said and done, 439 kids received a free, properly-fitted bike helmet at this year's event, which was held June 11 at Garfield Park. The best news is that these children now have a lesser chance of sustaining a brain injury in a bike-related accident.
Many of the kids who attended won new bikes, which were donated by Village Bike & Fitness. Other prizes were also given away, including passes to ...
Continue Reading →