The Impact of COVID-19 on Families in Michigan – Parenting Time, Child Support, Resources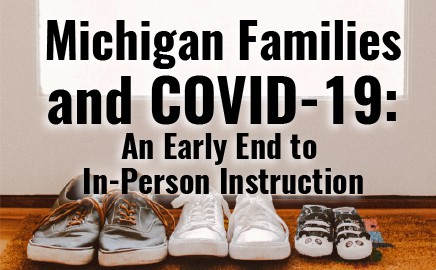 News involving COVID-19 coverage is everywhere, and Michigan is no exception, having recently been named a coronavirus "hotspot." On Thursday, April 2, 2020, Governor Gretchen Whitmer announced the closing of all K-12 for all in-person education for the rest of the 2019-2020 school year in response to the coronavirus global pandemic. While this decision helps to ensure the safety and health of Michiganders, the impact of COVID-19 on families is yet to be fully understood.
For some families, the impact of COVID-19 on daily life may be as simple as coordinating work schedules and childcare needs. For others, coronavirus may pose more difficult issues regarding uncertainty with child support, custody arrangements, and other family law matters. And with the entire country wading through uncharted territory during the coronavirus pandemic, many of these concerns have so far been unanswered. Now that Michigan's Governor has made an official directive regarding schools, parents should focus on keeping the family healthy and doing what is best for their children.
Parenting Time When COVID-19 Closes School Early
With in-person schooling coming to a close for the remainder of the 2019-2020 school year, most Michigan families who have been involved with the court should refer to their court order. Court orders typically include a different schedule for regular time (i.e. school year), holidays, and summer. Parents should read over their arrangements carefully to understand how summer is defined. Executive Order 2020-35 requires school districts to implement an approved plan as to the continuation of learning opportunities by April 28, 2020. Based on this Order, it appears that depending on each plan, your child's school year remains ongoing. Further, Section II paragraph C of the Order indicates that school districts may opt to adopt a "balanced calendar" for the rest of the 2019-2020 school year, as well as the 2020-2021 school year. As such, you should remain vigilant in reviewing communication from your child's school.
In addition, you should review the Executive Order from the Governor's Office in detail, so you can understand how it impacts your parenting time.
Parenting Time Exchanges and the Risk of Exposure
No matter the situation, your child's safety is always the first priority. If exposure to the virus is a real and legitimate concern at one household, the other parent may feel the need to quarantine the child with them indefinitely. Under normal circumstances, this would lead to the Court granting make-up parenting time in the best-case scenario. In a worst-case scenario, the Courts may deem this as an outright violation of the order. Unfortunately, this is a completely unprecedented situation, and the Court's response remains uncertain. 
Our best advice is to use your co-parenting skills and clearly and respectfully communicate your concerns with your child's other parent, document your communication, speak with your attorney if possible, and try your best to abide by your order. 
COVID-19 and the Potential Impacts on Child Support
Child support agreements define parental obligations under MCL 552.605b(2), where it states that child support continues until the later of:
a. When your child turns 18, or;
b. If your child is in high school full-time with a reasonable expectation of graduating, until 19 ½.
Therefore, if your child turned 18 during the school year and was in school full-time when the school year abruptly ended months earlier than anticipated, the obligation to pay child support may also stop earlier than you anticipated.
This is already a very troublesome time financially for Michigan families. Between businesses closing, loss of incomes, and a shaky stock market, at best, losing anticipated child support will likely cause more of a strain. Again, if you find yourself in this situation, our best advice is open communication with your child's other parent. Look for opportunities to compromise and best support one another during this trying time.
Other COVID-19 Impacts on Family Legal Matters
In accordance with social distancing requirements, many of the Michigan court systems are operating under very strict limitations right now. This means that family legal matters may not be handled as normal. Check with your local court system to find out their operational capacity during this time.
Although the police department is limiting its level of response, this does not include domestic violence or sexual assault calls. If you or your family are in danger, many resources remain available for domestic violence victims during the COVID-19 pandemic. For immediate help, call or text 911.
Taking care of grandparents or the elderly during Michigan's shelter-in-place order is considered essential, just as picking up groceries or visiting the bank. If you are caring for elderly loved ones, you are still abiding by the law. However, you should take extra precautions to ensure that you are not exposing them during your visits.
Stay 6 feet apart, Michigan!
Authored by Lansing family attorney, Jackie Dupler