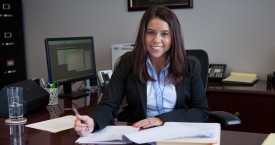 Jackie Dupler has been named a "Top 5 Under 35" attorney by the Ingham County Bar Association.
The "Top 5 Under 35" award is given by the Ingham County Bar Association to young lawyers who have distinguished themselves in their relatively short career by demonstrating exemplary character, integrity, judgment and legal scholarship; service to the profession and the bar; service to the community; and a reputation for, or the advancement of, the highest legal standards and professional responsibility.
Jackie is an associate in the Sinas Dramis Family Law Division, where she handles Michigan divorce, child support and parenting time, spousal support, child custody, grandparenting time and paternity issues.
In addition to practicing law, Jackie is president of the Ingham County Bar Association's Young Lawyers Section (YLS) and serves as a YLS board member, as well as an Ingham County Bar Association board member. In 2015-2016, she was a board member of the Women Lawyers Association of Michigan Mid-Michigan Region and she is currently an ex-officio member of the Ingham County Bar Foundation Board of Directors. Jackie is also a member of the Ingham County Bar Association Family Law Section, the Tri-County Family Law Association, the Michigan Association for Justice and the National Association of Career Women.
Jackie makes it a point to help educate the public about domestic relations law. She frequently presents at the Sinas Dramis Law Firm's annual "People's Law School" and often participates in the firm's "Morning Blend" television campaign. Jackie also participates in the Ingham County Friend of the Court's "Focus on the Children" parent education program.
Before joining Sinas Dramis, Jackie clerked for a judge in the Ingham County Circuit Court Family Law Division. She earned her law degree from Michigan State University College of Law.
If you need help with a family law matter or have questions regarding a domestic relations issue, contact Jackie and our experienced Michigan family law & divorce attorneys for a free consultation.