Who Pays for the Children's Medical Expenses After a Divorce?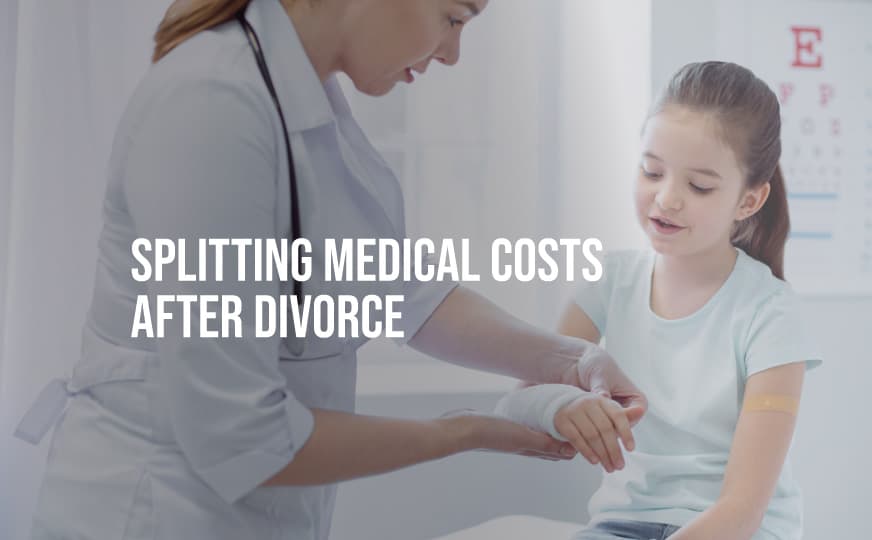 As co-parents navigate their way through the divorce process or unmarried couples separate, one thing that often generates a lot of confusion and concern is how to handle medical expenses. Who pays for the children's medical expenses after a divorce? How are the bills split? Are both parents responsible for a portion of every single medical expense? If you're in the process of filing for divorce or have recently separated and are wondering how to handle child medical bills after divorce, Michigan family law attorney, Jackie Dupler, offers the following information and advice.
Medical Expenses Factored into Child Support Calculations
Inevitably, your child will incur medical expenses between now and when they turn 18. Because the child's well-being is the responsibility of both parents, medical expenses need to be factored into child support calculations. It's up to both parents to ensure the health and safety of their children.
Components used to calculate support:
Base support – includes support, plus or minus an adjustment for the health insurance paid on behalf of the child
Ordinary medical expenses
Childcare
When most people talk about how much they pay in support, they're referring to the total of the components above.
Health Insurance Premiums and Requirements Post-Divorce
A child support order stating which parent must maintain health insurance coverage is required by Michigan law. The cost of the health insurance premium is considered in calculating child support. As such, if the payor of child support also covers the child's health insurance through their employer, the payor will have a deduction made to their base support. Conversely, if the payee of child support covers the child's health insurance through their employer, then the payor will have an additional amount owed in their base support.
Here is an example of what this looks like:
Mom pays $500 in base child support per month per child.
Mom also carries the child's health insurance and pays the premium. Therefore, she receives a proportionate deduction in her monthly base support.
If dad were the parent that carries the health insurance coverage, Mom would have to pay an additional amount to help offset the premium price incurred by Dad.
Splitting Uninsured Healthcare Expenses
As we all know, health insurance coverage doesn't cover all medical expenses we incur. For instance, many common out-of-pocket expenses include:
Prescription medication
Co-pays and co-insurances
Corrective eyewear – glasses, contact lenses
Braces and orthodontia
Office visits and appointments – medical, optical, dental, and others
Upon entry of a child support order, additional costs are deemed as "uninsured healthcare expenses."
Under the 2017 Michigan Child Support Formula, the Court presumes the recipient of child support will incur $403 per year in uninsured health care expenses. This amount is reviewed and may be adjusted when the Michigan Child Support Formula is revised. Depending on the entry year of your child support order, this may be a slightly different amount. Your exact amount will be noted on your child support order. Therefore, a portion of the payor's monthly child support obligation includes an amount toward "ordinary medical." This means that, on a monthly basis and throughout the year, in proportion to their respective percentage of the household income, the payor will pay towards the child's uninsured health care expenses.
Using the above example, here's what this looks like: 
Let's say the child was really sick in February and Dad, as the recipient of child support, incurred $403 in uninsured medical costs by March. Calculated based on both incomes, the child support order requires Dad to pay 40% of uninsured medical expenses and Mom to pay 60% of uninsured medical expenses.
In March, the child incurred another $400 in uninsured medical expenses, which means Dad pays $160 and Mom pays $240 in addition to her monthly child support.
In April the child receives orthodontia and the parents receive the first installment of fees at a total of $1,000. Dad pays $400, Mom pays $600 in addition to her monthly child support payment.
And so on for every other medical expense incurred for the remainder of the year.
The payee of child support should keep track of the medical expenses they pay on the child's behalf. Once the annual ordinary medical amount is met (currently, $403 per child per year), every additional dollar that calendar year is split in proportion to the parents' income. Page two of the child support order notes these percentages. Keep in mind, there are time limitations as to when you can seek Court assistance for reimbursement. If you and your ex are unable to agree to how to split medical expenses and/or how to reimburse one another, you should contact a family law attorney for assistance.
If you have questions regarding child support or are searching for a skilled family law attorney in Lansing, call us today at 866.758.0031 or contact us online.