2017 Lids For Kids Bike Helmet Giveaways & Bike Safety Events
The Lids for Kids bike helmet giveaway and bike safety event is an annual community outreach program, where we distribute free bike helmets to children in Lansing, Grand Rapids and Traverse City. The program initially began in Lansing more than 15 years ago.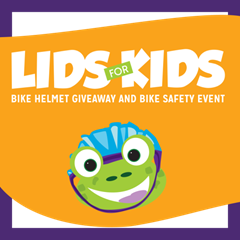 The 2017 Lids for Kids dates are:
Traverse City:  Saturday, May 13, 10 a.m. – noon at F&M Park
Lansing:  Saturday, May 20, 10 a.m. – 1 p.m. at Marshall St. Fire Station

Grand Rapids:  Saturday, June 10, 10 a.m. – noon at Garfield Park
Why do we hand out free bike helmets every year? Because many children who ride bikes suffer severe head injuries simply by not wearing helmets, or by not wearing properly fitted helmets.
It is estimated that more than 140,000 bicycle riders under the age of 20 sustain brain injuries each year, and another 250 die as a result of those injuries. According to a report from the Michigan Office of Highway Safety Planning, bicyclist deaths in Michigan jumped 57 percent in 2015 to the highest number since 2008. Medical research shows that approximately 88 percent of bicycle-related brain injuries and deaths could be prevented just by wearing a helmet.
Unfortunately, not every family can afford bike helmets for their children, and many kids also refuse to wear them. In response, the Sinas Dramis Law firm,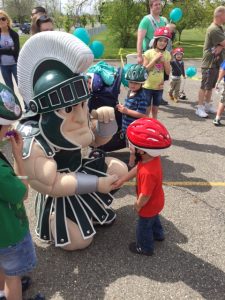 along with the Origami Brain Injury Rehabilitation Center, the Michigan Association for Justice and WLAJ television, established the Lids for Kids event as a way to get much-needed bike helmets to kids.
We are proud to say that, at our 2016 Lansing Lids for Kids, we handed out more than 500 bicycle helmets and 18 children won new bicycles, thanks to the generosity of local businesses and individuals. Lots of great prizes were also given away, and Sparty and the Big Lug were on hand to greet and take pictures with the kids.
In fact, since the Lids for Kids program first began, we have given away more than 7,600 bike helmets to Michigan children, keeping them safe from bike-related head injuries.
For details on the various Lids for Kids events, please contact us or visit the Lids for Kids website.