Lansing Car Accident Lawyers
Representing Victims of Auto Accidents in Lansing
A car accident is a life-changing event, and there's nothing to prepare you for it. In the wake of a crash, there may be physical injuries, financial burdens, mounting medical bills, and lost wages. It can be a confusing and difficult time.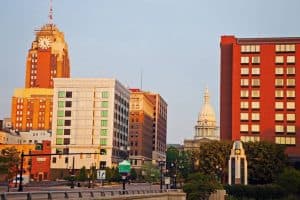 The Lansing car accident lawyers at Sinas Dramis Law Firm understand everything you're dealing with. We remove any extra hassle by successfully navigating your accident's claims process. Now you can focus on what's most important – your recovery and healing.
Our Lansing office is conveniently located near the US-127/I-496 interchange at 3380 Pine Tree Rd., Lansing, MI 48911. You can also call to speak with one of our Lansing personal injury attorneys at (517) 394-7500.
Hiring an Auto No-Fault Expert Who Also Understands Liability Claims
Our attorneys are recognized as leading authorities on Michigan no-fault law, a complex set of rules that apply to nearly all accidents involving motor vehicles.
The no-fault system basically guarantees the payment of certain insurance benefits to car crash victims – allowable expenses, work loss benefits, replacement services, and survivor's loss in instances of death.
However, oftentimes, two types of claims arise from an auto accident – 1.) no-fault claim and 2.) liability claim if you were not at fault for causing the accident. Through a claim against the at-fault driver, you may obtain compensation for pain and suffering as well as excess economic loss damages, which is considered any income loss above and beyond the three years and $5,755 (October 1, 2020 – September 31, 2021) per 30-day period maximum. This is payable through your no-fault benefits.
Understanding the ins and outs of both claims can be confusing and not all attorneys understand this unique complexity. As Michigan car accident attorneys, we have educated ourselves thoroughly in order to confidently handle all aspects of your claims. We look forward to advocating for your rights to obtain the best results you're entitled to.