Save The Date: Traverse City Lids For Kids Is May 13, 2017!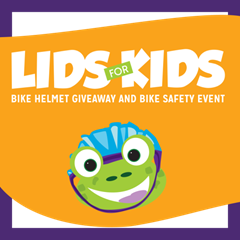 The 2017 Lids for Kids bike helmet giveaway in Traverse City will be held Saturday, May 13. It's the second year for our Traverse City bicycle safety event. Last year, more than 400 bike helmets were distributed.
Lids for Kids is a community outreach program that emphasizes the importance of bicycle safety and gives children the one tool they need to prevent brain injury in a bicycle accident: a properly fitted helmet. Since the program began in Lansing some 15 years ago, more than 7,000 bike helmets have been distributed to Michigan children.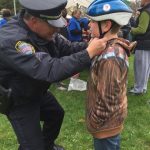 In addition to getting a free bike helmet, kids who attend Lids for Kids can play games, learn bicycle safety tips, meet local law enforcement officers and firefighters, and tour a fire engine. Children also have the chance to win a free bicycle, donated by a local bike shop, and other great prizes.
Lids for Kids is held each year in the spring. The idea to distribute free bike helmets stems from a realization that many young bike riders often sustain preventable brain injuries simply because they do not wear helmets, and not every family can afford to purchase bike helmets.
Lids for Kids is sponsored by the Sinas Dramis Law Firm, Brain Injury Association of Michigan, Agevix Professional Network for Exercise Therapy, Origami Brain Injury Rehabilitation Center and the Michigan Association for Justice. The 2017 local community partners include Traverse City Area Public Schools, Norte Youth Cycling, McLain Cycle & Fitness, Grand Traverse Woman Magazine and WTCM Newstalk Radio 580.
For more information, contact Sinas Dramis or visit the Lids for Kids website.