About Sinas Dramis Law Firm
---
For over 60 years, we have provided our clients with compassionate, skilled, and dedicated legal representation, particularly in the areas of Michigan personal injury law, Michigan auto no-fault law, Michigan bicycle law, and Michigan family law.
From the beginning, Sinas Dramis Law Firm has demonstrated a commitment to the civil justice system, protecting the right of those who have been injured through the fault of others to seek redress through the justice system. Because of our dedication and commitment to our clients, over time we have developed an esteemed reputation in these areas, and have gained the respect of both the bench and bar.
With offices in Lansing, Grand Rapids, Kalamazoo, and Saint Clair Shores, Michigan, as well as an office in Chicago, Illinois, our Michigan personal injury lawyers and family law attorneys have continued to build upon the tradition of excellence that the firm has enjoyed for more than 60 years.
Our Vision: Protecting The Civil Justice System
Our attorneys have diverse backgrounds and experiences, but among us there is a common goal: a commitment to providing expert, high quality legal representation and a thorough understanding of the importance of the preservation and protection of our civil justice system.
The American civil justice system is what allows you to seek damages for losses you have sustained because of the negligence or wrongful acts of others. It is what allows you to seek redress for someone's carelessness that results in your injury or, in some cases, wrongful death. Contrary to popular belief, there is nothing wrong with holding those who cause you or your loved ones injury or harm accountable for their actions. If anything, the civil justice system performs a regulatory function. By providing you the right to confront the parties who cause your injury, we keep them honest and hopefully prevent them from behaving in a way that may cause someone else harm in the future.
The Beginning
The Sinas Dramis Law Firm was founded in 1951 when Thomas G. Sinas opened his solo practice in the Olds Tower Building in downtown Lansing (now Boji Tower). After being joined by his good friend, Lee C. Dramis, a few months later the firm was relocated to 120 W. Ottawa, where it remained until 1954. That same year, Richard J. Brake joined the firm and helped establish it as a well-respected, small law firm.
Continued Growth & Expansion
In 1954, the firm relocated to the Prudden Building in downtown Lansing, on the corner of Washington and Michigan Avenue. Over the next few years, the Sinas Dramis Law Firm continued to grow, necessitating continued expansion. By the time Barry Boughton and Kenneth G. McIntyre joined the firm in 1964 and 1969, respectively, the firm had moved from the Prudden Building to 515 N. Capitol Avenue. The firm's reputation continued to grow, and the addition of former Ingham County Chief Circuit Judge Donald L. Reisig to the firm in 1976 did even more to enhance the firm's highly-regarded image in the legal community. With his addition, however, came the need for more space, as there were six full-time attorneys and a number of staff. That's when a new building was constructed at 520 Seymour Avenue. The firm remained in the Seymour Avenue building throughout the 1980s. As the firm's client base and attorney roster expanded, by 1999 it was determined the office was once again too small. This time, the firm took a bold step, and looked toward relocating to the outskirts of Lansing rather than downtown. In 1999, the firm erected the building that is now our main location at 3380 Pine Tree Road in Lansing, Michigan.
Beyond Lansing: Chicago, Grand Rapids, and Kalamazoo
With a number of attorneys licensed to practice in both Michigan and Illinois, the decision was made to open an office in Chicago in 2010, so it could better serve injured people not only in Chicago but across Illinois.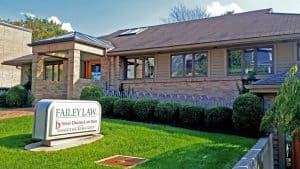 In July 2013, in order to better serve our West Michigan clients, the firm decided to open an officein the heart of downtown Grand Rapids. Our Grand Rapids personal injury attorneys are actively involved in representing injured people in West Michigan, as well as in the West Michigan legal community. They also give back to the Grand Rapids community through outreach events, such as the Lids for Kids Bike Helmet Giveaway and Safety Event. With the onboarding of a third Grand Rapids personal injury attorney, a need for more space became apparent. In late 2018, our Grand Rapids office relocated to 310 Fulton St. East, Grand Rapids, Michigan, only a half-mile from our former location.
Understanding a need to serve the communities of Southwest Michigan with superior personal injury representation, our third Michigan office opened in Kalamazoo in early 2019. Led by seasoned Kalamazoo personal injury attorney, Steve Weston, our long-held commitment to the people of Michigan continues to expand.