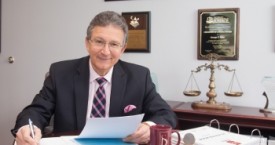 George Sinas has been recognized by Leading Lawyers as a "Top 10″ Michigan plaintiffs' personal injury lawyer. He is one of only two personal injury attorneys outside the metro-Detroit area to be listed in the Top 10.

"I am humbled to receive such recognition," said George, who is managing partner at the Sinas Dramis Law Firm. "This is especially true considering the other outstanding personal injury lawyers who are listed. It's an honor to be in their company."
George has also been named by Leading Lawyers ...
Continue Reading →