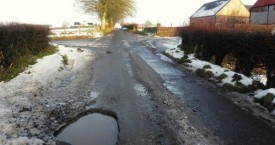 Michigan roads are terrible, that's no secret. And while poor road conditions leave drivers frustrated and annoyed, the problem also contributes to extensive wear and tear on our vehicles. Many might fail to remember that Michigan actually has laws on the books regarding pothole damage reimbursement. Michigan personal injury attorney, Bryan Waldman, Michigan personal injury attorney, recently appeared on WLNS "Legal Edge" to explain Michigan pothole damage reimbursement and responsibility for maintaining safe roads in the state.
Jurisdiction of Michigan Roads
Michigan has a law with regard to pothole damage, yet few know about it. This law states that ...
Continue Reading →