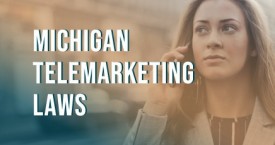 Telemarketing and robocalls seem to be on the rise, and if you've received one of these calls during dinner, while trying to get out the door, or basically any other time, you know how annoying they can be. And while there's no definite end in sight, there are Michigan telemarketing laws and a federal effort to help curtail these disturbances in the future.
Telemarketing Laws – Do Not Call Registry
If you haven't already, register your landline and mobile phone on the federal Do Not Call List. For repeat offenders that continue to ignore your registration on the Do Not Call ...
Continue Reading →