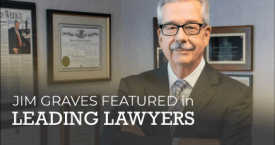 With the aptly fitting title of "Compassionate PI Pro Fights for Michigan and Illinois Victims," we proudly announce the publication of a recent Leading Lawyers article featuring Sinas Dramis partner, Jim Graves.
Jim Graves – Michigan Leading Lawyer
As a Michigan personal injury lawyer, Jim Graves has been included in the annual Leading Lawyers list every year since 2013. Through a lengthy nomination and selection process, Leading Lawyers recognizes only the top 5% of attorneys with this unique distinction. Every year, Leading Lawyers sends out its annual survey to state-licensed attorneys asking "If a family member or friend needs legal ...
Continue Reading →