Child Custody and Substance Abuse – When to Get Legal Help Plus Local Resources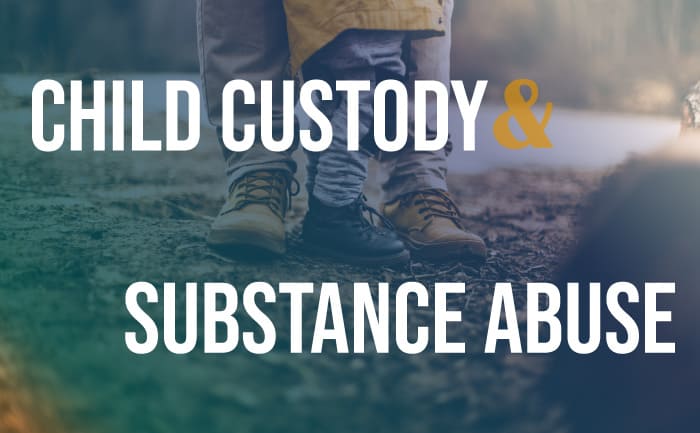 Michigan family courts are designed to protect the rights of and advocate for the best interest of children. While judges do their best to keep the family intact as much as possible, certain specifics regarding your family dynamic must be addressed and taken seriously, especially instances of child custody and substance abuse. If you or your child's other parent suffer from addiction, it could have a major impact on your custody and parenting time schedule.
What is an addiction?
According to the Mayo Clinic, drug addiction (also called substance use disorder) "is a disease that affects a person's brain and behavior and leads to an inability to control the use of a legal or illegal drug or medication."[1]
What drugs can a person be addicted to?
A person can be addicted to legal drugs and/or illegal drugs.  Legal drugs include alcohol and prescription medication (including opioids); however, the misuse of prescription medication constitutes an illegal drug.
Symptoms of Drug or Alcohol Addiction
Symptoms of substance use disorder include [2],
Continued use of drugs or alcohol despite experiencing the serious negative consequences of heavy drug or alcohol use;
Increasing tolerance: needing more drugs or alcohol to feel high or buzzed;
Craving: feeling "a strong need, desire, or urge to use alcohol or drugs, will use alcohol or a drug despite negative consequences, and will feel anxious and irritable if he or she can't use them;"
Loss of control: consuming more alcohol or drugs than intended, or using at a time or place unplanned;
Upon stopping use, feeling physical dependence or withdrawal symptoms.
According to the Center for Disease Control, excessive use of alcohol leads to approximately 88,000 deaths in the U.S. annually[3], and an average of 130 Americans die every day from opioid use.[4]
Substance Abuse and Child Custody
Addiction is serious and the courts treat it as such. Under MCL 722.23 and MCL 722.27a, custody and parenting time are granted based upon considering the best interest of the child. This best interest inquiry can include reviewing the mental and physical health of the parents and how their health impacts the child. Of course, it is in the best interest of the child for both parents to be physically and mentally healthy, including no current or past issues with addiction.  However, that is not always the case.
If substance abuse is a factor in your family dynamic, the following local resources are here to provide help and support.
Local Lansing Substance Abuse Resources
CEICMHCA – 812 E Jolly Rd, Lansing MI 48911
Mission and services: CEICMHCA provides withdrawal management, detoxification, and residential and outpatient substance abuse programs. In addition, the organization provides individual and group therapy sessions, crisis intervention, and has served the Tri-County area for over four decades.
The Recovery Village – East Lansing 
866.235.4572
Mission: A nationwide organization, The Recovery Village's Michigan chapter is on-mission to connect local residents with local resources. They offer a thorough list of local Alcoholics Anonymous meetings, Narcotics Anonymous meetings, SMART Recovery meetings for those outside the traditional structure and needs of AA and NA, and meetings for loved ones of those suffering from addiction.
Correctional Assessment and Treatment Service (CATS) – 630 N. Cedar St Mason, MI 48854
Mission and services: Provide outpatient treatment and aftercare for individuals diagnosed with a substance dependency in the Ingham County jail. CATS also offers a methadone maintenance program.
Cristo Rey Substance Abuse Program – 1717 N/ High Street, Lansing MI 48906
517.372.4700
Mission: To not only offer substance abuse programs designed to meet the needs of minority communities in the area, but to offer preventative services as well. Services include substance abuse education, individual and family counseling, outreach to homeless individuals, medical clinic services, and supportive referrals.
Family Attorney Experienced in Child Custody and Substance Abuse
If you're facing a change in your family's dynamic, such as divorce, separation, or child custody, and substance abuse is also a factor, it's important to seek the legal help of a skilled Michigan family law lawyer who is experienced handling these sensitive and complex situations. Call our office today at 855.758.0031 to see how we can help you.
Author: Jackie Dupler, Michigan family law attorney
Article Resources:
[1] https://www.mayoclinic.org/diseases-conditions/drug-addiction/symptoms-causes/syc-20365112
[2] Center for Substance Abuse Treatment. What Is Substance Abuse Treatment? A Booklet for Families. HHS Publication No. (SMA) 14-4126. Rockville, MD: Substance Abuse and Mental Health Services Administration, 2004, Revised 2014.
[3] https://www.cdc.gov/alcohol/pdfs/alcoholyourhealth.pdf
[4] https://www.cdc.gov/drugoverdose/epidemic/index.html, citing Wide-ranging online data for epidemiologic research (WONDER). Atlanta, GA: CDC, National Center for Health Statistics; 2017. Available at http://wonder.cdc.gov.