Co-Parenting During an Unexpected School Closure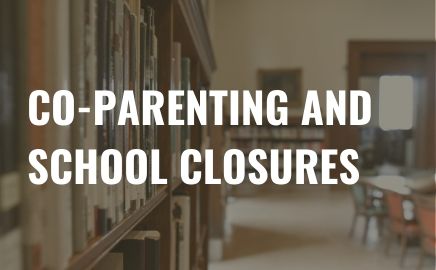 An unexpected school closure such as a snow day or a sick day is especially difficult to navigate as a divorced parent. However, recent events are forcing many to asses their co-parenting childcare options in extreme measures. If you have shared custody, read on.
Update #1: On March 23, 2020, Governor Gretchen Whitmer issued a shelter-in-place order to help mitigate the spread of COVID-19 in Michigan. Now, in addition to questions stemming from co-parenting during unexpected school closure, many parents are wondering how this impacts their custody arrangement.
Update #2: On April 2, 2020, Governor Whitmer issued an order closing all K-12 schools to in-person instruction for the remainder of the 2019-2020 school year. Many families – especially those who have been involved in the Michigan family court system – are wondering how COVID-19 will decision will impact them, including how to handle custody arrangements and child support, to name a few. Read more about the school closure order here.
According to the Governor's "Stay Home, Stay Safe" order, a few exceptions apply, including one that is crucial to co-parents with custody agreements. The related language in the order states, "Individuals may also travel… between two residences (both within Michigan and outside of the state)… and as required by law enforcement or a court order, including the transportation of children pursuant to a custody agreement."
Therefore, this order by no means negates your custody agreement and parents are advised to proceed as normal. Exceptions to this may be considered in extreme cases where the health and safety of your child is at risk due to transporting between or living in two homes.  This is a very fluid and rapidly evolving situation. Be sure to check back for any other updates related to family law matters and COVID-19.
Read on for further information regarding school closures.
Handling Co-Parenting Decisions and Schedules
On March 12, 2020, the World Health Organization (WHO) described the outbreak of COVID-19, or coronavirus, a pandemic due to the "speed and scale of transmission." To reduce the spread of the virus, the Centers for Disease Control and Prevention (CDC) recommended social distancing and increased sanitization efforts. Earlier in the week, universities opted to temporarily close or go online, large events were canceled or postponed, and travel restrictions went into place in response to these recommendations. After the outbreak was classified as a pandemic, Governor Gretchen Whitmer ordered all K-12 school buildings in the State of Michigan to be closed from Monday, March 16 through Sunday, April 5th to further reduce the risk of coronavirus spread in Michigan.
Due to this long-term and unexpected school closure, parents are being pushed to consider their options in balancing childcare with work requirements. The situation is especially difficult for divorced or solo parents to manage. With public schools in Michigan closed for weeks, what should parents consider now and in the case of future long-term school closings?
Precautions: Remind your children to wash their hands often and for at least 20 seconds. With unwashed hands, avoid touching your eyes, nose, and mouth. If possible, practice social-distancing and avoid close contact with those who are sick. If you are feeling sick, seek medical treatment to ensure you and your family's health.
Co-Parenting: Unexpected school closures are nothing new in Michigan, as our children typically have snow days every year. However, when parents are divorced, school closings can be even more difficult. Who is suddenly going to stay home to watch the kids? Now that schools will be closed for weeks, this will be even more challenging. It is always best to exercise good co-parenting and work this out between you and your ex. Take turns staying home with your children, and don't talk respectfully of the other parent for having to go into the office. Your children need appropriate supervision and this responsibility shouldn't fall on just one of you. Remember that your first priority as a parent is to keep your children safe and healthy.
Job Expectations: Have a conversation with your boss or team to clarify your childcare needs in this situation and what their expectations are for you. Doing everything you can to reduce the potential for future conflicts, and communicate those job requirements to your ex, to help ensure that your co-parenting schedule doesn't cause problems later.
School Lunch Programs: Many children face food insecurity and rely on school meals to receive breakfast and/or free or reduced lunch. With the unexpected school closure of Michigan schools, these children may go weeks without access to proper nutrition. If you or someone you love is facing food insecurity, we recommend you go to your local food bank. If you are in a position to donate, consider the Greater Lansing Food Bank, which has the We Serve Kids Program. This program works to ensure that children have access to nutritious food when they are unable to attend school.
Spring Break: Talk to your ex about spring break and confirm that you are both on the same page about plans, especially if they involve travel. Be sure to communicate about whether you think it is still safe to travel or how you will make that decision as the scheduled break nears.
Stay healthy, Michigan!
Information on the coronavirus is evolving frequently, visit the CDC's website to stay updated.
Authored by Jackie Dupler, Michigan Family Law Attorney