Grand Rapids Lids for Kids
Grand Rapids 2020 event details still to be determined.
Follow us on Facebook for updates.
Grand Rapids Lids for Kids 2019
What: FREE bike helmet giveaway for Grand Rapids kids!
Where: Garfield Park, Burton/Jefferson entrance
When: June 1, 2019 – 10 a.m. – noon
Hundreds of Helmets Distributed in Grand Rapids!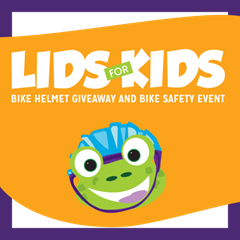 On June 9, 2018, despite a total downpour, Sinas Dramis Law Firm, along with our community partners, handed out more than 550 free, properly fitted bike helmets to Grand Rapids kids at our annual Lids for Kids event.
The Grand Rapids free bike helmet giveaway was held in addition to our Lids for Kids events in Lansing and Traverse City in May.
Children who attended Lids for Kids not only received free bike helmets, but also had them custom fitted by trained volunteers. It's not enough to just wear a bicycle helmet — proper fit helps prevent brain injury in a bike accident even more when compared to a loose or wobbly helmet.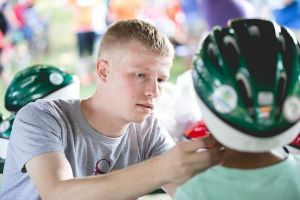 In addition to getting free bike helmets in Grand Rapids, several children won brand-new bikes and other prizes generously donated by local businesses and organizations.
The Grand Rapids Police Department and Grand Rapids Fire Department were on hand to meet families, give fire engine tours, and show kids the workings of a police vehicle. West Michigan FOX 17 once again helped emcee the event and Grand Rapids Mayor Rosalynn Bliss stopped by to chat with families and help promote bicycle safety.
---
Why we give away free bike helmets in Grand Rapids
The Sinas Dramis Law Firm has a longstanding commitment to promoting and advocating bicycle safety across Michigan.
In keeping with this commitment, in June 2014 we held the first Lids for Kids event in Grand Rapids. Along with our gracious co-sponsors and community partners, we are able to fit children with free, brand-new bicycle helmets, just in time for summer riding.
As a Grand Rapids pers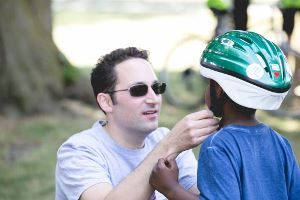 onal injury firm that has represented injured people across Michigan, we understand the importance of putting safety first. Unfortunately, we have seen cases where kids have sustained catastrophic brain injuries because they were not wearing a bike helmet, or were wearing a helmet that did not fit properly. We have also seen instances where children's lives were saved because they wore a properly fitted helmet. In fact, research shows that a majority of bicycle-related brain injuries could be prevented by simply wearing a properly fitted helmet.
Because we believe in preventing injury before it happens, we have made a  commitment to distribute bike helmets in the communities that we serve. We are proud to be able to help hundreds of children in West Michigan who might not otherwise get a bike helmet.
The 2017 Grand Rapids bike helmet giveaway was sponsored by the Sinas Dramis Law Firm and the Brain Injury Association of Michigan. Community partners included Grand Rapids Public Schools, FOX 17, the Grand Rapids Fire Department, Hope Network and Mary Free Bed Rehabilitation Hospital.
For details on our annual Lids for Kids events, please visit the Lids for Kids website. If you have questions about the bike helmet giveaway, please contact Teri Lynne by email or at 517-394-7500.
We thank all the community partners for helping to make this important event happen. We'll see you again next year!