People's Law School 2019

Learn About the Laws That Protect You
Please join us every Tuesday, Septemeber 10 – October 22, 2019, from 7 pm to 9 pm at the East Lansing Hannah Community Center!
At People's Law School, our goal is to educate Michigan residents about the law, help you know your rights, and gain a better understanding of the inner workings of the legal system. This seven-week program is open to the public and connects Lansing-area citizens with local judges, attorneys, professors, and legal experts.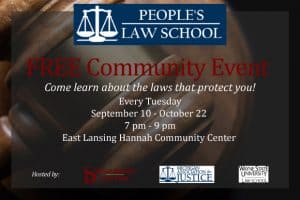 People's Law School is sponsored by Sinas Dramis Law Firm, Michigan Association for Justice, and Wayne State University. If you have questions, please email Terilynne at Sinas Dramis or call her at 517-394-7500.
The 2019 speaker lineup, dates, and topics are as follows:
For the first time in the history of People's Law School, this is now a FREE event! Registration still required. You can register for individual sessions or the entire seven-week series.
Register for People's Law School
More About People's Law School
Fox 47 Morning Blend – People's Law School 2019
Please note: this was filmed before People's Law School was turned into a FREE event!
More than 20 years ago, Sinas Dramis Law Firm began presenting People's Law School in partnership with the Michigan Association for Justice and the Thomas M. Cooley Law School. The program, held for seven weeks each fall, has helped educate thousands of Michigan residents about their rights and the legal system.
The presenters at People's Law School includes justices, judges, elected officials, seasoned attorneys, and law professors. The program allows students (the public) an opportunity to engage with and learn from some of the best and brightest minds in the legal profession. The weekly sessions feature speakers who are committed to excellence in their field. Discussion topics are far-ranging and rotated yearly to ensure there's something for everyone.
Sinas Dramis Law Firm partnered with Wayne State University Law School in 2014 to bring People's Law School to mid-Michigan residents.