People's Law School
Know your rights. Learn about the law.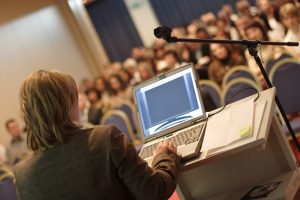 People's Law School is a program that helps educate Michigan residents about their legal rights and the law. People's Law School connects citizens who want to learn more about the law with local judges, attorneys, professors and other legal experts.
The 2017 People's Law School is a seven-week program that began September 12 and ends October 24. Classes are held every Tuesday evening from 7-9 p.m. at the Hannah Community Center in East Lansing. The cost is $25 for the seven-week series or $7 for an individual class.
Classes include a lecture with a short break, followed by a question and answer session. Each participant receives their class materials on the evening of the class. Students who attend five of the seven classes receive a People's Law School Diploma.
It's not too late to register and attend. Registration is handled through our People's Law School co-sponsor, the Michigan Association for Justice, by calling 517-321-3073. Or you can register online by clicking here.
If you have questions about the classes themselves, please email Teri Lynne or call her at 517-394-7500.

* schedule subject to change
---

More About People's Law School
More than 20 years ago, the Sinas Dramis Law Firm began presenting People's Law School in partnership with the Michigan Association for Justice and the Thomas M. Cooley Law School. The program, held for seven weeks each fall, has helped to educate thousands of Michigan residents about their rights and the legal system.
The faculty for People's Law School includes justices, judges, elected officials, seasoned attorneys and law professors. The program allows students (the public) an opportunity to engage with and learn from some of the best and brightest minds in the legal profession. The weekly sessions feature speakers who are committed to excellence in their field. Discussions range from practical advice in areas like Michigan auto no-fault law and family law, to discussions of United States Supreme Court rulings and cutting-edge legal topics, like forensic evidence.
The Sinas Dramis Law Firm partnered with Wayne State University Law School in 2014 to bring People's Law School to mid-Michigan residents.
In this video, Sinas Dramis associate attorney Jackie Dupler talks about the People's Law School program.
People's Law School Testimonials
Very interesting. I could have listened to this topic for several more hours.

Good presentation. The presenter had a good grasp of the topic.

Excellent information - very helpful, enlightening. I would come again and bring relatives and friends.

A good analysis offered without bias.

Excellent program - great speaker!

So very important. Very glad to learn from someone so knowledgeable. Great speaker, could listen to her all day. 

Nice to learn from someone with so much experience. I can tell she is a very good teacher. Great speaker. 

Good use of cases to deliver the information.

Very good speaker and story teller.