COVID-19 Back to School Advice for Separated Parents from a Family Law Attorney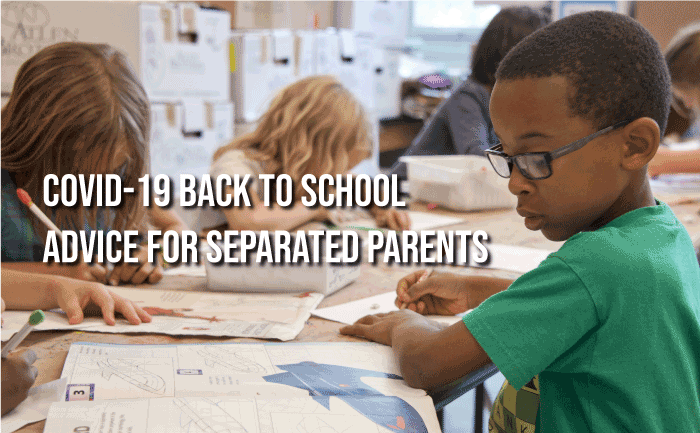 As the summer months dwindle down, Michigan families are experiencing unprecedented back to school anxiety this year. For many families, unanswered questions abound following the school's early shutdown due to coronavirus last spring. Is your school district re-opening for fall classes? How will your family navigate back to school in the COVID era? Should you keep the kids home and teach them virtually? What about your own work? These questions can be even further complicated for divorced parents, families with a parenting time arrangement, and others navigating the Michigan family law system during COVID-19. If this is you, our Michigan family law lawyer, Jackie Dupler, offers the following back to school advice for separated parents.
Mid-Michigan Schools 2020 Reopening Plans
Due to COVID-19, schools abruptly transitioned from traditional in-person learning to online learning in the Spring of 2019. As coronavirus cases continue to rise, school districts around the country are faced with the very complicated task of determining whether or not to re-open for in-person learning.
Pursuant to Governor Whitmer's Coronavirus task force's "MI Safe Schools: 2020-21 Return to School Roadmap," the ability of school districts to return to in-person learning is largely dependent upon the reopening phase of the locality.
As of the date of publication of this blog post, the following mid-Michigan school districts have announced the following plans for returning to school for the 2020-2021 school year:
Remote/Online Learning: Ann Arbor; East Lansing; Grand Rapids; Holt; Lansing; Mason; Okemos; Waverly
Hybrid: Grand Ledge
Many other Michigan school districts have yet to release their official fall 2020 plans as of the publication of this article. Be sure to continually check in with your child's school district to stay up-to-date on back-to-school information and future plans.
As parents, you want what's best for your child, including their physical, mental, and emotional well-being, socialization, and education. But you likely are also under pressure to maintain your own workplace productivity, even if the workplace has transitioned to home.
Coronavirus and Co-Parenting
The impact of COVID-19 on co-parenting is dynamic and oftentimes overwhelming. If you are struggling to manage this complicated relationship in 2020, rest assured, you are not alone. In such an unprecedented time, so many families are navigating an uncertain school year across the state. If there is one positive out of all of this, it is knowing you are not alone, we are all in this together. Every family, whether living in one home, multiple homes, navigating a court order or not, is faced with this unprecedented uncertainty. If nothing else, there is solidarity in the unknown. For separated parents and those with parenting arrangements, I offer the following advice for this upcoming school year.
COVID-19 Back to School Advice for Separated
If possible, you and your co-parent should have an open and honest discussion about how you plan to tackle the challenges this upcoming school year will bring. In particular, you should determine what your standard will be for addressing multiple scenarios that will likely arise. Do you plan to follow the Center for Disease Control (CDC) guidelines, your local health department guidelines, your child's pediatrician's advice, or someone else? Having a standard that is mutually agreed upon may help facilitate addressing more specific concerns down the road. The focus here is coming to an agreement on the same set of guidelines and sticking to it.
What types of co-parenting issues are parents facing due to covid19?
There will, without a doubt, be many challenges and issues to face in the coming months. Whether your child's school district returns to in-person learning, virtual learning, or a combination of both, it's best to have a conversation with your co-parent ahead of time to get on the same page. Some of the topics you may want to discuss before school starts up again include:
Should your child wear a mask?
Should your child be able to play with friends, neighbors, or extended family?
Should you hire a teacher/tutor?
Should you homeschool?
Should your child attend family events like weddings, birthdays, or even funerals?
Should your child travel – in-state, out of state, or internationally? Should travel be restricted to places you can drive to? What about flying?
Should your child go with you to run errands and go to the grocery store?
What should homeschool look like? Should it have structure and hours akin to in-person learning?
Will your child's homeschooling include art, music, and physical education?
What if a co-parent has to be at work during their parenting time? Can you work out a modification to your parenting time schedule?
Will your child attend daycare, before school care, or after school care?
What if you or your child tests positive for COVID-19? How will you ensure your child has continued contact with the other parent but does not risk passing the virus to the other home? Will make-up parenting time be an option?
How will you juggle homeschooling, parenting, and maintaining your own employment?
Will homeschooling, or continued social distancing, impact your child's mental health, and should your child be in counseling? Note: many counselors are having appointments with patients via teleconferencing, so treatment may still be an option for you.
If your child returns to school, should social distancing be strictly enforced even if not required by the school?
How will you address situations where your child refuses to adhere to your set of standards?
Will your child ride the school bus if the service is offered by your school district? If not, who will be responsible for transportation and on what days?
Communication is Key During COVID-19
How you and your child's other parent resolve these issues will be based upon your ability to effectively communicate and follow your respective court order. You should be aware, however, that since Coronavirus and its attendant issues are new, there is little legal precedence for the Court to rely upon.
My best COVID-19 back to school advice for separated parents is to have respectful conversations with your child's other parent whenever possible. This coming school year will very likely come with its fair share of new challenges. Adding extra stress during this transition, especially for your kids, isn't helpful. Getting on the same page as early as possible before the school year commences will best serve the entire family in the long-run.