Our Free Law Literature
The brochures listed below are available as PDFs, which you can download and print. If you would like us to mail you free hard copies of any of our brochures or informational materials, we are happy to do so. To order hard copies, please complete the Sinas Dramis Law Firm Brochures Request Form.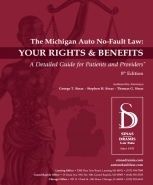 The Michigan Auto No-Fault Law: Your Rights & Benefits (8th ed.)
For more than 20 Years, the Sinas Dramis Law Firm has compiled and made available to the Michigan medical community complimentary copies of this booklet. The purpose of the booklet is to offer patients and providers useful information about the extensive rights and benefits available under Michigan's auto no-fault law, so those rights and benefits are protected during dealings with insurance companies.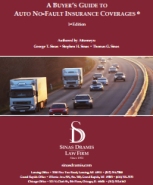 A Buyer's Guide To Auto No-Fault Insurance Coverages (1st ed.)
The Sinas Dramis Law Firm makes available this brochure as a way to help you determine whether your automobile insurance adequately protects you and your family. With this brochure, you can make the right decisions about your insurance needs.

---