Michigan Bicycle Accident Attorney
Trusted Experts In Bike Law
With the increasing number of bicycles on Michigan roads, both bicyclists and motorists need to know and understand their rights. While our bicycling community here in Michigan is vibrant and growing, safety for cyclists still continues to lag behind.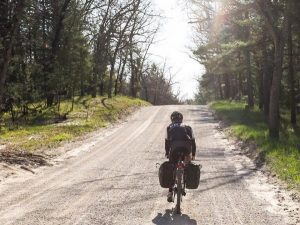 We're a law firm that understands the bicycling community. We believe that a person's health is their most valuable possession. And when your health and wellbeing are taken away because of a driver's negligence or recklessness, you deserve to have your rights defended.
While every one of our personal injury attorneys handles bicycle collision cases regularly, Bryan Waldman is the face of our bicycle group. A renowned personal injury lawyer and avid cyclist himself, you've likely heard of or seen Bryan at biking events across the state. In fact, Bryan has dedicated an entirely separate site, MichiganBicycleLaw.com, to educating cyclists and motorists about cyclist rights. In addition to this site, Bryan wrote "The Legal Handbook for Michigan Cyclists" which he regularly updates with changes in the law that affect the bicycling community. You can find a digital version of it on MichiganBicycleLaw.com, and a list of over 70 bike shops that keep it stocked around Michigan.
If you're a bicyclist and were injured as the result of a crash with a motor vehicle and need representation, please contact us online or call us at 866.758.0031. Bryan, or another bike attorney team member, is happy to look over the specifics of your case and provide a free, confidential initial case review.
Choose an Experienced Michigan Bicycle Accident Attorney
Since the very beginning, our firm has represented the rights of Michigan bicyclists and other endurance athletes.
Our bike law group is led by Bryan Waldman, an avid cyclist who rides both competitively and recreationally. As a seasoned bike law attorney, Bryan is well-versed in the nuances of Michigan and Illinois bicycle rules and regulations.
Many Sinas Dramis members enjoy cycling, so we understand the importance of protecting cyclists' rights.
We are equipped to help clients throughout the states of Michigan and Illinois – Bryan is licensed in both states!
Commonly Asked Questions After a Bike Crash
Below are a few of the most frequently asked questions our bike attorneys receive:
If you have been injured in a Michigan or Illinois bicycle accident, visit MichiganBicycleLaw.com and contact Michigan bike law attorney Bryan Waldman for a free consultation.
Lansing ranked low for bicycle safety, Bryan Waldman shares ways to improve safety for Michigan cyclists, including tougher distracted driving laws.
Results for Michigan Cyclists
Sinas Dramis Law Firm passionately advocates for the rights of Michigan bicyclists. As a result, we have obtained many successful verdicts and settlements on their behalf.
$1,000,000   Eaton county bicycle-motor vehicle crash resulting in wrongful death.

$1,000,000   Settlement for an Eaton County bicyclist struck by a motor vehicle resulting in multiple injuries including a TBI.

$500,000 Settlement on behalf of a college student involved in a bicycle versus bicycle collision. 

$400,000 Settlement for our client who was struck by a city street sweeper that ran a red light.

$180,000 Total settlement on behalf of our client, a young Michigan cyclist who was hit by a van.

$155,000  For our client sustained a fractured collarbone when he was thrown over his handlebars after avoiding a collision with a car that failed to yield the right of way.

$80,000 Settlement for a 70-year-old Michigan bicyclist who suffered multiple orthopedic injuries after being struck by a motor vehicle in the Upper Peninsula.
Our Commitment to the Michigan Bicycle Community
If you haven't heard the name Bryan Waldman yet, you've likely seen him at a bike event either sponsoring rides or participating himself. Next time you're at a Michigan bike event and see a Sinas Dramis table, make sure to say "hi" to Bryan and pick up a copy of the printed Legal Handbook for Michigan Cyclists.
In addition to our involvement and support of Michigan bike races and events, we also believe so much in the sport of cycling and its importance, we give back to our communities through Lids for Kids – a free bike helmet fitting and giveaway event in Lansing, Grand Rapids, and Traverse City.