Construction Site Accident Law Firm
When proper precautions aren't taken on construction sites, injuries on construction sites are more likely to happen. Because these areas of construction are right in the middle of everyday life, private citizens and site workers alike can be injured on a construction site. Common construction locations include roadways, sidewalks, and commercial buildings. This means even the smallest of mistakes can lead to big consequences. And when injuries occur because of the negligence of an employer, contractor, or corporation, an experienced construction site accident law firm will help you obtain the best possible compensation.
Injured on a construction site? Call us today at (517) 394-7500.
Private Citizens Injured on a Construction Site
Private citizens injured on a construction site may be able to file a claim against the negligent party. First, however, the injured person must prove the four basic elements of any negligence claim: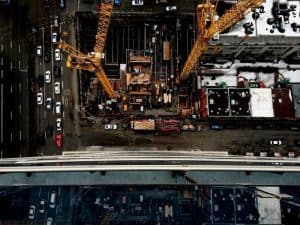 They were owed a legal duty by the Defendant (corporation, construction employee, or contractor)
The Defendant breached that duty
The Defendant's breach of legal duty was the cause of injury
The damages were sustained as a result of this breach of duty
Liability claims for construction site injuries can become complicated very quickly. Most Defendants will argue there was no legal duty owed or there was no breach in this duty. In addition to proving the four basic elements of a negligence claim, the injured party will also need to properly identify the appropriate responsible individual or organization. This can be anyone from an employee to a contractor to the construction company itself or the owner of the construction project. It can be complicated to determine which party was negligent and caused your injuries. This is why it's always recommended to consult with a specialized construction site injury attorney with experience handling these types of cases.
Injured Construction Workers
Job-related injuries can happen anywhere, but for construction workers, the chances of being injured on the clock increase. In Michigan, construction workers injured on the job are entitled to workman's compensation benefits. Workman's compensation benefits are available to the injured employee no matter who was at-fault for the injury but can oftentimes be difficult to obtain. Michigan's workers' compensation law bars injured employees from also bringing a liability suit against their employer in addition to worker's compensation benefits.
If injuries were the result of negligence on behalf of a third-party other than an employer, your case may also qualify for bringing a personal injury claim against the person or entity responsible for your injuries. This could be other contractors on the site, for instance.
In this video, Grand Rapids personal injury attorney Tom Sinas talks about a new federal regulation that makes workplace injuries public information, as well as Michigan's workers' compensation system.
Fox 17 Know the Law – Construction Site Safety Law from Sinas Dramis Law Firm on Vimeo.
Our History of Keeping People Safe in Construction Zones
Since opening our doors in 1951, we've always been committed to helping keep Michigan residents safe and protecting their rights when injured on a construction site. The following are a few examples of successful results we've obtained for our clients.
$2,770,000 Highway defect case in Ingham County construction zone; motorcyclist encountered defect and crashed, rendering him a quadriplegic who ultimately succumbed to complications stemming from injuries.
$1,850,000 Toxic tort judgment for four healthcare workers who sustained respiratory injuries when a construction company negligently applied a cement sealant on a sidewalk below the air intake vents at a Lansing, Michigan hospital. Toxic fumes from the sealant entered the hospital's ventilation system and carried to the surgical suites.
Safety Measures on Construction Sites
Michigan law provides exceptions that allow the injured person to bring a liability suit against a principal or general contractor and collect compensation for their injuries. By placing at least some liability on the principal or general contractor, these exceptions encourage entities to look out for the safety of all workers on the job site. Most often, attorneys use the common work area exception to litigate liability against the negligent party. However, there are other exceptions as well.
Common Work Area Liability
This is the most common legal theory for filing a liability claim against a principal for injuries sustained on a construction site. Under this theory, principals must ensure an adequate level of safety in common work areas. A person bringing a claim under this theory must prove four specific elements against a principal for injuries suffered on a common worksite, including:
General contractor with supervisory and coordinating authority over the job site
Common work area shared by the employees of more than one subcontractor
The readily observable and avoidable danger in that common area
The danger must create a high degree of risk to a significant number of workers
Construction Site Accident Damages
Damages for construction site injuries include compensation for medical expenses, lost wages or earning potential, property damage, and pain and suffering.
The statute of limitations for these types of accidents is the same as other negligence claims, which means the Plaintiffs must file a claim within three years of the date of their injury. If a family is bringing a wrongful death claim on behalf of a loved one killed on a construction site, this statute of limitations may be extended.
If you suffered injuries on a construction site it's important to call a qualified construction site injury attorney today. We proudly offer a free initial case review and don't collect any fees until we win or settle your case. Call us at (517) 394-7500 or contact us online.