If you've been injured because of a defective condition in a sidewalk which made the sidewalk unfit for pedestrian travel, you may be entitled to bring a claim against the governmental agency responsible for the maintenance and repair of the sidewalks in that community. Understanding your rights under this exception to governmental immunity is an important step in knowing when you may have a viable claim.
Liability for Sidewalks Lies with the Municipality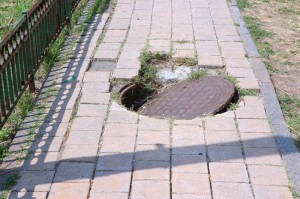 Sidewalks are included in the definition of "highway" under the state's governmental immunity act. Specifically, the act states in pertinent part that "highway includes a bridge, sidewalk, trailway, crosswalk, or culvert on the highway." MCL 691.1401(c). Thus legally, sidewalks are not their own exception, but rather fall under the "public highways exception" to governmental immunity.
The inclusion of sidewalks within the definition of "highway" gives the appearance that the governmental agency responsible for maintaining the highway or roadway would also hold liability for maintaining any accompanying sidewalk, given that "each governmental agency having jurisdiction over a highway shall maintain the highway in reasonable repair so that it is reasonably safe and convenient for public travel."
Despite this appearance, the Michigan Supreme Court has specifically held that state and county governments do not maintain liability for sidewalks. Specifically, the Court has stated:
[A]ll governmental agencies, including the state, counties, and municipalities, have a duty to maintain highways under their jurisdiction in reasonable repair. However, we also know that the duty of state and county road commissions is limited to the improved portion of the highway designed for vehicular travel, which specifically does not include sidewalks. A municipality's duty, on the other hand, is not similarly limited; rather a municipality has a duty to maintain highways in reasonable repair and highway is specifically defined to include sidewalks. Thus, while MCL 691.1402(1) exempts state and county road commissions from liability for injuries resulting from defective sidewalks, municipalities are not exempt; municipalities do have a duty to maintain sidewalks in reasonable repair.
Robinson v City of Lansing, 486 Mich 1, 7 (2010)(internal citations omitted).
In response to the Supreme Court's ruling,the Michigan Legislature passed MCL 691.1402a in March of 2012, which attempts to codify a municipality's liability for sidewalks. The statute now reads in part that "a municipal corporation in which a sidewalk is installed adjacent to a municipal, county, or state highway, shall maintain the sidewalk in reasonable repair."
It is also important to note that Public Act 419 of 2016 now allows municipalities to assert the open-and-obvious defense for premises liability claims stemming from sidewalk defects. Private entities have been able to rely on the defense. Now, the defense extends to municipalities and makes it even more difficult to pursue premises liability cases in Michigan.
Burdens of Proof to Establish Sidewalk Liability
Although the sidewalk liability statute found in MCL 691.1402(a) makes clear that municipalities maintain liability for any sidewalk which is "installed adjacent to a municipal, county, or state highway," the statute also places several hurdles on an injured Plaintiff wishing to bring suit against the municipality.
First, pursuant to MCL 691.1402a(2), the Plaintiff must prove that the municipality either had notice of the defective condition on the sidewalk at least 30 days prior to the Plaintiff's injury, or in the exercise of reasonable diligence, should have known of such a condition.
Further, the statute has a built-in presumption that municipalities maintain their sidewalks in reasonable repair. This presumption may only be rebutted upon the Plaintiff's establishment that either the sidewalk had a "vertical discontinuity of 2 inches or more," or that the sidewalk had a dangerous condition other than a "vertical discontinuity." Whether such a condition exists is a matter of law and will be determined by the courts.
In essence, these rules require that the sidewalk on which the Plaintiff was injured had a crack or other tripping hazard which was greater than 2 inches tall at the time of the accident, or some other condition made this sidewalk hazardous.
Michigan enacted Public Act 419 in January 2017, which says that municipalities can now defend sidewalk trip and fall claims by arguing the defect in the walkway was "open and obvious" and, therefore, the person should have been able to avoid it. Public Act 419 makes it extremely difficult to sue municipalities for injuries related to defective or uneven sidewalks.
In this video, Grand Rapids personal injury attorney Tom Sinas discusses the effect of Public Act 419 on Michigan residents.