If you or a loved one have been injured while at a nursing home or other elder-care facility, you may be entitled to bring a legal claim against those responsible to recover for your injuries.
These suits, which are based in tort, may be brought as either general negligence or medical malpractice claims, depending on the facts of your case. This area of law is important not only to the patients of elder care facilities, but to their loved ones as well, because they help to insure that such facilities provide quality care and are held to the highest standards of operation under the law.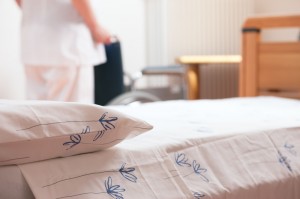 Nursing home liability cases can be complicated, and will require you and your attorney to make several difficult choices throughout the course of the case. Because Michigan law allows you to file a claim under several different legal theories, it will be important that you and your attorney work together to determine the facts of the case and the type of claim most appropriate to your situation.
Nursing Home Negligence Claims
Negligence claims are appropriate when the injury you suffered was caused by the negligence of a nursing home employee. The scope of a negligence claim is wide and allows the injured plaintiff to bring an action anytime someone has failed to comply with certain standards of conduct, and that failure resulted in injury to the plaintiff.
Negligence claims are typically appropriate when the negligent actor was an owner or operator of the facility, or one of its employees. As a general rule, negligence claims are not used when the negligent actor is required to make his or her decision based on specific medical training, such as that which a doctor would receive and rely on.
Nursing Home Medical Malpractice Actions
Nursing home medical malpractice actions are appropriately pursued when the negligent wrongdoer was a medical care provider, such as a doctor, and that provider failed to comply with generally accepted standards of medical care. Such failure to comply must also cause the plaintiff's injury.
There are a number of special procedural aspects which are unique to medical malpractice actions. Any person who believes they have been injured as the result of medical malpractice is strongly encouraged to seek immediate counsel from an attorney, to ensure their rights can be adequately protected.
Litigation Alternatives
Over the years, nursing home contracts have frequently included mandatory arbitration clauses, requiring that any claims against a nursing home be resolved through a private arbitration process, rather than through a traditional court proceeding. However, a federal rule enacted November 28, 2016, provides that nursing home contracts can no longer require the arbitration of disputes.
The rule applies to all nursing homes that receive federal funding, which most do, and was issued by the U.S. Department of Health and Human Services. Under the rule, the only way that lawsuits against nursing homes can be arbitrated is if both sides agree to use the arbitration process. In this video, Grand Rapids personal injury attorney Tom Sinas talks about the new rule and its impact on plaintiffs.