Sinas Dramis Earns 2022 "Best Law Firm" Recognition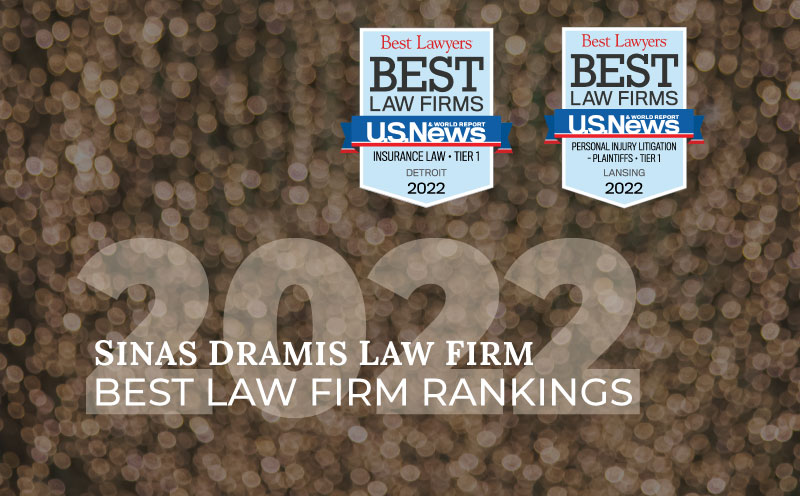 Sinas Dramis Law Firm is pleased to announce the firm's rankings in the 2022 "Best Law Firm" List. These rankings demonstrate our commitment to justice, Knowledge of the law, and esteemed reputation with our clients and the legal community. Sinas Dramis is proud to receive recognition in three of our four Michigan locations, including new recognition for Detroit in insurance law.
This year, Sinas Dramis Law Firm received the following tiered rankings by U.S. News and Best Lawyers:
Metropolitan Tier 1 – Lansing

Plaintiffs Personal Injury Law

Metropolitan Tier 1 – Detroit
Metropolitan Tier 2 – Detroit

Plaintiffs Personal Injury Law

Metropolitan Tier 3 – Kalamazoo

Plaintiffs Personal Injury Law
Fighting for Michigan's Injured Statewide
Headquartered in Lansing, with additional offices in Grand Rapids, Kalamazoo, and Detroit, Sinas Dramis Law Firm values highly our commitment to fight for all Michiganders regardless of location. Since the firm's doors first opened more than 70 years ago, we've expanded shoreline to shoreline, and with these distinctions, our clients can be sure that when they select a Sinas Dramis Michigan personal injury attorney, they'll receive the highest level of legal counsel.
Recognition Importance
When someone is injured and that injury greatly impacts their life, selecting an attorney to assist them is an extremely important decision. We appreciate that each client we represent has a unique case, but the one common denominator is that they need someone they can trust and rely on to fight for them. These recognitions demonstrate our commitment to being that for all of our clients, and the passion we have for achieving the outcomes they desire.
Once again Sinas Dramis is thrilled with our 2022 "Best Law Firm" recognitions – especially our additional recognition in Detroit, and we remain committed to continuing our mission to stand up for Michigan's injured, and ensure they receive the guidance and justice they deserve.