Brian McKenna Makes Detroit Business Magazine's Top Lawyer List for Third Consecutive Year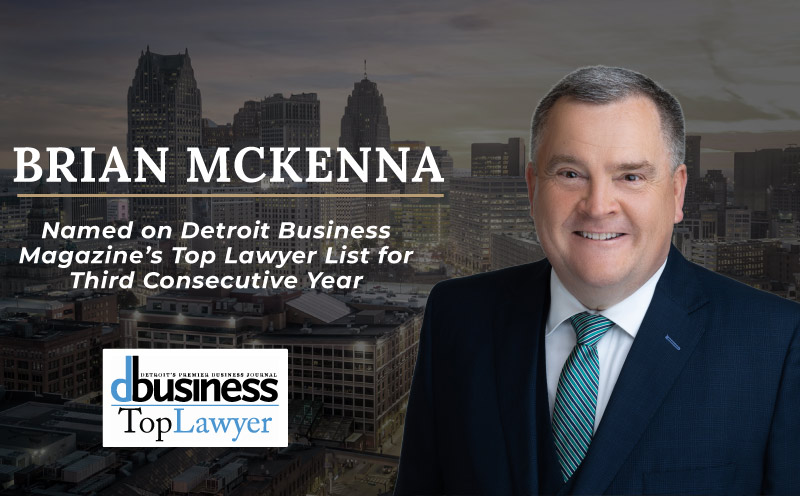 Championing the rights of Michigan's severely injured and aiding them in securing the benefits they're entitled to has been the lifelong dedication of Sinas Dramis Partner and Metro-Detroit Personal Injury Attorney Brian McKenna. We're thrilled to share that Brian's steadfast efforts have once again been acknowledged, as he features in Detroit Business Magazine's 2024 "Top Lawyers" List. This is the third consecutive year Brian has received this honor.
This esteemed recognition is derived purely from a peer-review survey distributed to accredited lawyers in the Metro-Detroit area. It serves as a testament to Brian's esteemed reputation within the legal community.
A Glimpse into a "Top Lawyer"
Brian has practiced law in Michigan for 30 years and has an esteemed reputation across the state. In addition to Detroit Business Magazine's "Top Lawyers" list., he's been honored by Best Lawyers in America, Michigan Super Lawyers, Leading Lawyers, and holds an AV rating from Martindale-Hubbell. Beyond his professional pursuits, Brian's commitment to legal excellence is further exemplified by his roles as a Michigan Association for Justice executive board member, membership with the Association of Trial Lawyers of America, and involvement in the Michigan State Bar Negligence Law Section.
Brian's core mission remains to assist Michigan's injured individuals in regaining the fullest life possible post-injury. While doing so, he's secured a number of large settlements and verdicts on behalf of those whom he represents. For Brian, he believes his works gives those who need it a voice, and the ability to right the wrongs against them.
Please join everyone at Sinas Dramis Law Firm in congratulating Brian on this deserved recognition.