Submit Form for a Free Consultation
---
No legal fees until we win or settle your case!
---
Dignified Legal Representation Since 1951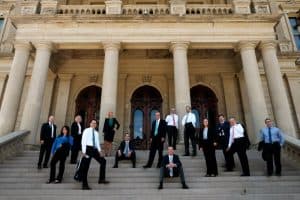 For more than 65 years, the Michigan personal injury, auto no-fault and family law attorneys at Sinas Dramis have represented people throughout the state. Our Michigan personal injury attorneys pride themselves in advocating for the rights of injury victims and their families. Our lawyers are recognized as leaders in their field. Not only do they fight to hold accountable those who have negligently or wrongfully caused harm to others, but also strive to educate the public about the law.
Our personal injury attorneys know the law can be confusing and overwhelming, especially when you and your family are dealing with hospital bills and therapy sessions — and insurance companies that don't always have your best interests in mind. That's why our lawyers are here to help and will stand by your side every step of the way.
Like our personal injury team, our family law attorneys also bring sensitivity, compassion and extensive knowledge of the law to the table, in every domestic relations case they handle.
When you contact our Lansing, Grand Rapids, Kalamazoo, Detroit, or Chicago office for a free consultation, you can rest assured the information you provide is kept confidential. We will use the information to analyze your case and determine the next course of action. However, please remember that submitting a form online or contacting our office does not automatically create an attorney-client relationship.