For those looking for legal representation in a personal injury or family law matter, please use the form below to tell us about your situation and we will get back with you. We are committed to responding as quickly as possible.
Furthermore, our firm routinely engages with communities across Michigan through our various public education efforts to bring awareness to important legal developments. If you're a member of the media looking to connect about a media appearance, a community member interested in more legal information, a referring attorney, or current or former client, you may also use the form below to connect with us.
---
Under our contingency fee arrangement, no attorney fees are

ever

owed until we recover money for you.
---
What to Expect When You Contact Sinas Dramis Law Firm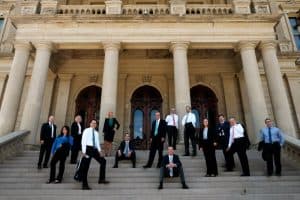 When you contact Sinas Dramis Law Firm looking for legal representation, you will likely first interact with our intake case professionals who gather important information needed to determine if and how we can help you. If we believe our firm can help you, you will hear back from us about meeting with one of our attorneys to further discuss your potential case. In the initial meeting – often referred to as a free personal injury lawyer consultation – we will get to know the specifics involved so we know how we can best represent you. This is also your opportunity to ask questions and determine whether or not we are a good fit for your needs. Communication up to this point does not constitute an attorney-client relationship.
Tell Us What Happened and We'll Be in Touch
Our personal injury attorneys know the law can be confusing and overwhelming, especially when you and your family are dealing with hospital bills, treatment plans, and insurance companies that don't always have your best interests in mind. When you contact us, we not only take the time to listen fully to your situation but also thoroughly explain the law and your legal rights so you understand how to best proceed, whether you retain us or not. 
We specialize in personal injury litigation and have decades of experience handling the following case types, in addition to dedicated family law practice:
Specialized Family Law Services
Our family law department provides superior services in the areas of divorce, child custody and support, parenting time arrangements, and complex asset division. For more information about how we can help your family, please submit the form above and we will be in touch.
** "Free" applies to personal injury consultations.