Grand Rapids Car Accident Lawyer
Nothing can prepare you for being in a car accident. You can't plan for navigating the resulting complicated claims process. But, nevertheless, if this is where you find yourself, consulting with an experienced Grand Rapids car accident attorney is the best way to get the compensation you deserve. Put the Sinas Dramis team of attorneys on your side. With compassion, dedication, and an extensive history of successful verdicts and settlements, we help West Michigan families, as well as injured people across the state, get back to the lives they were living before their accident.
We are conveniently located downtown at 312 Fulton Street East, Grand Rapids, MI 49503. You can also call to request a consultation with one of our  Grand Rapids personal injury attorneys at (616) 301-3333 or contact us online.
Why Hire a Grand Rapids Car Accident Lawyer
Our Grand Rapids car accident attorneys understand West Michigan. We know the communities we serve and the resources you'll need to effectively win your case. We also continually build relationships with services and providers utilized most by our clients so we can best connect you to care and rehabilitation if needed. But more than that, we pride ourselves as experts in Michigan's auto no-fault system – a complex insurance program that affects nearly all motor vehicle accidents in the state.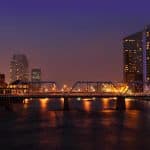 More than that, many people are under the impression that, since Michigan relies on auto no-fault insurance, a no-fault claim is all they're entitled to. This is often untrue. If you've been injured due to the negligence of an at-fault driver, you may actually be entitled to two types of claims – a claim for no-fault benefits against your own car insurance provider and a liability claim against the insurance provider of the driver who caused the accident.
Specializing in Michigan No-Fault and At-Fault Driver Claims
If you were in a car accident in Michigan regardless of fault, you're entitled to no-fault benefits if you are an auto insurance policyholder or covered under a resident relative's policy.
No-fault benefits pay for:
Allowable expenses – whatever is reasonably necessary for the care, recovery, and rehabilitation of a person injured in an auto accident.
Work loss damages – up to 3 years lost income at 85% of previous wages or a statutory maximum of $5,718 per 30-day period.
Replacement services – $20/day for the care of the home and assistance with household related tasks.
Survivor's loss benefits – subject to the same maximums as work loss benefits, survivor's loss is designed to support the dependents of victims tragically killed in Michigan car accidents for up to 3 years.
In addition, in instances of collisions caused by a negligent or reckless driver other than yourself, you may be entitled to bring a negligence claim against that at-fault driver.
Liability claim (also called an at-fault driver claim) pays for:
Pain and suffering damages – must meet a threshold injury, including death, permanent disfigurement, or serious impairment of body function.
Excess economic loss – income replacement above and beyond what is payable through your no-fault benefits.
Not all attorneys understand how these two types of claims factor into one another. When deciding on an attorney to represent you, keep this in mind. You want someone on your side that can help obtain the best results possible for your journey forward. Our Grand Rapids attorneys understand the complex nature and interplay between both claims. As such, we're are dedicated to fighting for everything our clients are entitled to under the law. You can rely on our years of experience and knowledge.
Grand Rapids Car Accident Resources to Get You Back on the Road
Contact information for law enforcement agencies in Grand Rapids, MI:
Grand Rapids Police Department
1 Monroe Center Street NW
Grand Rapids, MI 49503
Phone: 616-456-3403
Fax: 616-456-3351
Kent County Sheriff's Department
701 Ball Avenue NE
Grand Rapids, MI 49503
Phone: 616-632-6100
Fax: 616-632-6122
Michigan State Police – District 6 Headquarters
345 Northland Drive NE
Rockford, MI 49341
Phone: 616-866-4411
Fax: 616-866-4783
Michigan State Police – Rockford Post No. 61
Covers Kent, Muskegon, and Ottawa Counties
345 Northland Drive NE
Rockford, MI 49341
Phone: 616-866-6666
Fax: 616-866-3997
City of East Grand Rapids Police Department
770 Lakeside Drive SE
East Grand Rapids, MI 49506
Phone: 616-949-7010
Fax: 616-940-4829
Wyoming Police Department
2300 DeHoop Avenue SW
Wyoming, MI 49509
Phone: 616-530-7309
Fax: 616-249-3403
Kentwood Police Department
Kentwood Justice Center
4742 Walma Avenue SE
Kentwood, MI 49512
Phone: 616-698-6580
ePolice@ci.kentwood.mi.us
 Order your Grand Rapids car accident police report.
Grand Rapids – Kent County Area Hospitals and Rehabilitation Centers
Mercy Health Saint Mary's Campus
200 Jefferson Ave. SE
Grand Rapids, MI 49503
Spectrum Health Blodgett Hospital
1840 Wealthy Street Southeast
Grand Rapids, MI 49503
Spectrum Health Butterworth
100 Michigan St. NE
Grand Rapids, MI 49503
Helping West Michigan Know the Law
Our Grand Rapids office is led by Sinas Dramis partner, Tom Sinas. As a Grand Rapids personal injury attorney, he understands the ordinances that affect city and neighboring community residents. He also shares an appreciation for the things that make West Michigan so unique.
In fact, if you watch Fox 17, you've probably seen him! He appears weekly on a segment called Know the Law to help the public understand the laws that affect their everyday lives, from tenant-landlord responsibilities and what to do after a hit-and-run to the controversial step-down clause that's sneaking into many Michigan auto insurance policies.
Meet Our Grand Rapids Team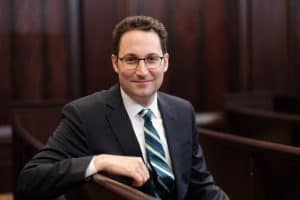 When a need was identified for Sinas Dramis Law Firm to establish a presence in West Michigan to best serve the community, Tom immediately stepped forward. He has skillfully managed the downtown Grand Rapids location since 2013.
Tom is an accomplished attorney who has tried both civil and criminal cases. He has dedicated himself to serving the public and representing those injured in auto-accidents, semi-truck accidents, motorcycle accidents, and many other personal injury cases. Tom acts as the Secretary to the Board of Directors at the Brain Injury Association of Michigan. From 2015 – 2018, he also served in various leadership roles at Grand Rapids Legal Assistance Center and Grand Rapids Bar Association.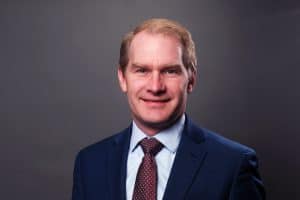 Brian joined Sinas Dramis Law Firm in 2018 and his wealth of experience, superior litigation skills, and overall compassion for the injured and wronged in West Michigan are a welcome addition. He serves as a Board Member at Kent County Legal Assistance Center, an organization of legal professionals who help improve access to free legal resources to Grand Rapids residents. While Brian has an impressive portfolio of personal injury litigation successes, he primarily focuses his practice on third-party auto negligence, motor vehicle accidents including automobiles, motorcycles, and semi-trucks, as well as a unique history handling sensitive medical malpractice claims.
If you or a loved one have been injured in a car accident in West Michigan, call a Grand Rapids car accident lawyer today for a free initial case review.
Grand Rapids: (616) 301-3333
Lansing: (517) 394-7500