Electric Scooter Laws in Michigan
In late July 2018, rows of electric standup scooters suddenly appeared seemingly out of nowhere in Detroit. Bird, a scooter rental service, placed these scooters throughout midtown and downtown. People were immediately curious and hopped on. After all, they're a fun alternative to travel by foot. Now, scooter rental stands are seen throughout many Michigan metropolitans, including East Lansing, Grand Rapids, and Ann Arbor, and are wildly popular on college campuses for reducing commute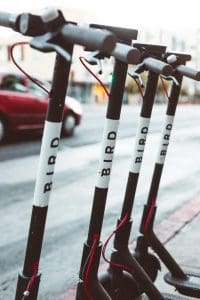 times. But as their popularity grows, one question remains: what do electric scooter laws in Michigan say about how and where one can ride?
Electric Scooters – A Trend That's Seemingly Here to Stay
However, the barrage of electric scooters in American cities caught almost all state and local lawmakers off guard. Michigan is no exception. While Michigan has no laws specifically addressing electric standup scooters, we do have a law on the books that appears to regulate the use of electric scooters. Simply by chance, an earlier dispute surrounding electric skateboards led to the law that seems to define the use of electric scooters. Here's a brief recap of that case:
A Brief History of Electric Scooter Laws in Michigan
A small store in Frankfort, Michigan sells and rents bikes, skateboards, surfboards, and standup paddleboards (SUPs). In 2014, before the wave of electric scooters hit the state, the shop began delivering its rental SUPs to customers by pulling them on a handheld trailer behind a motorized longboard. Genius, right? The system worked well and was an efficient way for employees to get SUPs to customers and back to the shop. However, the shop began experiencing resistance from local law enforcement.
In July 2016, while using a motorized longboard to transport SUPs, an employee attempted to pass a young girl and her mother, when the trailer made contact with the young girl. The girl was uninjured, according to police reports. However, the incident led to the arrest of the shop owners. As a result, their charges included "contributing to the delinquency of a minor," a misdemeanor crime.
Charges were ultimately dropped, but the Frankfort Public Safety Committee instructed its City Attorney to draft an ordinance prohibiting electric skateboard use within Frankfort's city limits. Local officials determined that the use of electric skateboards on public roads was a violation of state laws, claiming these boards met the definition of a motor vehicle without complying with laws that govern motor vehicles. Following years of dispute, the House of Representatives amended the Michigan Vehicle Code. It now includes provisions regarding the use of electric skateboards and went into effect in September 2018.
By pure coincidence, the effective date of the electric skateboard law occurred less than two weeks after electric scooters first appeared in Michigan. Because these scooters fit into the definition of "electric skateboard," this piece of Michigan legislation governs them as well.
Electric Scooter Laws in Michigan – the Specifics
Specifically, Michigan legislature that governs electric skateboards and, coincidentally scooters, defines these modes of transportation as follows:
"A wheeled device that has a floorboard designed to be stood upon when riding that is no more than 60 inches long and 18 inches wide, is designed to transport only 1 person at a time, has an electrical propulsion system with power of no more than 2,500 watts, and has a maximum speed on a paved level surface of not more than 25 mph.  An electric skateboard may, in addition to having an electric propulsion system with a power of no more than 2,500 watts, be designed to also be powered by human propulsion."
Electric scooters meet all the criteria necessary for an "electric skateboard" definition, under Michigan law. The scooters:
Have two wheels.
Have a floorboard designed for standing upon when riding.
No more than 60 inches long.
Less than 18 inches wide.
Designed to transport 1 person at a time.
Have an electric propulsion system with the power of fewer than 2,500 watts.
Have a maximum speed on a level surface of less than 25 mph.
Electric Scooters – Right to Michigan Roads and Sidewalks (With Limitations)
So, if you're hopping on an electric scooter anytime soon, make sure you're following the rules that apply. They are as follows:
Scooters are only allowed on streets or highways with speed limits of less than 25mph, except when crossing.
Must be ridden as near to the right side of the roadway as is practicable.
Operators must ride no more than 2 abreast (side-by-side).
Cannot pass other vehicles between lanes of traffic.
Cannot operate on a roadway between one-half hour after sunset and one-half hour before sunrise unless scooter is equipped with:

white light on the front that is visible from at least 500 feet away
reflector on the rear that's visible from up to 600 feet when in low beam headlights from a motor vehicle
optional use of a red light in addition to the reflector

May only be occupied by one rider at a time.
Riders under 12 are not able to operate scooters on roadways, streets, or the highway.
Using scooters on sidewalks is legal under electric scooter laws in Michigan. However, riders must yield the right-of-way to pedestrians and give an audible signal before passing.
Local Electric Scooter Restrictions and Regulations
While there are statewide statutes, a city, village, or township may additionally regulate the operation of electric scooters. However, these local governing bodies must post signs with restrictions or regulations in applicable areas. Local government can prohibit the use of electric scooters in or on:
An area open to pedestrians that's adjacent to a waterfront or on a trail under its jurisdiction.
Downtown or central business district.
Prohibit scooters from riding in bicycle lanes.
Always know before you ride. Check with your local ordinances and pay special attention to any signage posted on your route.
If you've been injured on an electric scooter, particularly due to the negligence of the driver of an automobile, call our Michigan personal injury attorneys. We will walk you through your options and help you recover the compensation you may be entitled to for your injuries. Call us at 517-394-7500 or submit an online contact form.