Lansing Personal Injury Attorneys
Excellence. Integrity. Results.
Sinas Dramis Law Firm has been a fixture in the mid-Michigan legal community since 1951. Our experienced Lansing personal injury lawyers handle a wide range of cases involving negligent or wrongful conduct that injures others. In particular, our attorneys have extensive expertise in handling a range of auto accident cases, semi-truck accident claims, wrongful death accidents, motorcycle collisions, bicycle-automobile accidents, and auto no-fault law claims.
We understand that the most valuable possession a person can truly have is their health. And when your health and well-being have been taken away due to someone else's negligence, personal injury lawyers step in to ensure your rights are protected.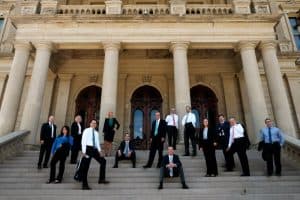 Our Lansing Personal Injury Law Office
Headquartered in Lansing, Sinas Dramis Law Firm opened its doors in 1951 to not only serve the communities of Lansing with excellence but provide skilled legal representation to all of Michigan. With offices across the state of Michigan and Chicago, we're conveniently located and pride ourselves in our statewide presence. But if you can't get to us right now, don't worry – we'll come to you!
Thomas G. Sinas and Lee C. Dramis founded Sinas Dramis Law Firm in downtown Lansing, near the State Capitol, more than 60 years ago. Both men believed that everyone deserves excellent legal representation. They believed that access to effective legal advocacy is not reserved only for the wealthy and well-connected; they understood every injured person deserves to have their story told and day in court. This is the vision our personal injury team and staff carry on today.
How Our Lansing Personal Injury Attorneys Can Help You
We know you have many options when searching for the "best Lansing personal injury attorneys." Below are just a few of the ways we can help you.
Experts in Michigan's Personal Injury Law
From slip and fall claims and construction site accidents to nursing home abuse or wrongful death claims, to name a few areas of personal injury law, we understand that serious injuries involve more than the actual physical injury. It also involves you or your loved one's care and recovery afterward, among many other things. Serious injuries can impact your ability to work and provide for your family, your emotional and mental health, and an array of other quality of life factors.
Our attorneys have the knowledge and expertise to help you with your legal claim. We work tirelessly to protect the rights of the injured and obtain fair-value compensation for your injuries. As a result, we've helped thousands of Michigan families get their lives back on track.
Lansing Auto Accident Lawyers
No one anticipates being in an auto accident, motorcycle accident, or semi-truck accident. But if you are, you not only have to handle your own recovery but also have to deal with your auto no-fault insurance company.
Too often, our attorneys encounter clients who have faithfully paid their insurance premiums and their insurance company still denies their auto no-fault claims. We also handle cases where the other driver was underinsured or had no insurance at all. Many of our clients have been catastrophically injured as a result of their accidents, facing months or even years of recovery.
No matter what your circumstance, our Lansing car accident lawyers can help.
Lansing Bicycle Accident Attorneys and Beyond
More bicyclists are on the roads today than ever before. As people increasingly turn to bicycling for exercise and transportation, it is critical that everyone who uses the roadways understands their rights and responsibilities.
Unfortunately, we have seen a growing number of bicyclists injured while riding on Michigan roads. We've also seen bicyclists who have been threatened by motorists who do not understand that bicyclists have a legal right to use the roadways. If this has been your experience and you've been injured while riding a bicycle, you need an experienced Lansing bicycle accident attorney — one who knows the Michigan bicycle laws and will fight for your rights.
For years, Sinas Dramis has dedicated many efforts to representing victims of bicycle-automobile accidents and improving understanding overall of biker's rights in the state of Michigan. Many of our attorneys are avid cyclists themselves and have a deep understanding and appreciation of this area of law. In fact, led by attorney and cyclist, Bryan Waldman, we dedicate an entire website, michiganbicyclelaw.com, to bicyclists in the state of Michigan. Bryan has also authored a comprehensive handbook called "The Legal Handbook for Michigan Cyclists" which you can download here.
Michigan Family Law Attorneys
In addition to representing seriously injured people in Michigan, we also support families dealing with a family law issue. Whether you are going through a divorce or legal separation, or need help with custody and support claims, the Michigan family law attorneys at Sinas Dramis Law Firm are committed to helping you.
We understand that a divorce, custody or support matter can be stressful. Our family law attorneys have decades of experience in all types of domestic relations issues. The attorneys in our family law division have the knowledge and expertise to get you the results that you deserve.
Our Tradition of Giving Back to the Lansing Community
Since the first days, we have been committed to giving back to the Lansing community. Now, more than sixty years later, our presence and community involvement reach across the state.
Giving back is a longstanding Sinas Dramis tradition. Shortly after the firm was founded, Tom Sinas and Lee Dramis were faced with a client who could not pay his bill. The client, who was a fruit and vegetable vendor, offered to give the firm a truckload of bananas as payment. Not only did Tom Sinas and Lee Dramis accept the bananas as payment, but with the vendor's permission, they drove the truck and distributed the bananas to the less fortunate in the Lansing community. Our firm's rich history and vision of giving back to our community is a pillar of our mission to this day.
While we have come a long way from those times, the lessons taught by Tom Sinas and Lee Dramis live on with us to this day. That's why we continue to give back to the Lansing community by sponsoring two important annual events: Lids for Kids and the People's Law School.
More About Our Firm
Headquartered in Lansing, Sinas Dramis Law Firm has been helping the people throughout Michigan since 1951. Hear more about our firm from Michigan auto accident attorney George T. Sinas, managing partner of the firm.
Choosing which law firm to work with can feel complicated and overwhelming. Learn more about this process and what to look for in an attorney and firm.