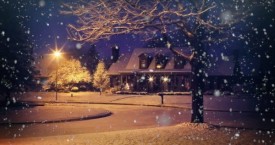 Michigan winters are notorious for harsh conditions, mounting snow, frigid temperatures, and ice. Knowing how to handle these conditions not only saves lives but can also save you money since snowy sidewalks often incur hefty fines. Tom Sinas, Grand Rapids personal injury attorney, appeared recently on Fox 17 "Know the Law" and explained the Michigan snow removal law.
Michigan Snow Removal Law and Snowy Sidewalks
Michigan laws defer snow removal to local governments. Smaller communities throughout the state have their own ordinances when it comes to removing snow. However, larger areas in the state, such as Lansing and Grand Rapids, enforce snow removal laws, mandating snowy sidewalks be cleared within 24-hours of accumulation. Snow, ice, or slush that blocks public walkways is considered accumulation. Owners/occupants have 24-hours to clear public sidewalks before the city takes enforcement action. Failure to clear walkways can result in fines, or a case built against the owner/occupant if somebody slips, falls, and hurts themselves on the property.
However, check with your municipality first. If conditions are extreme or life-threatening, with frigid temperatures, for instance, the 24-hour window may be extended. 
Snowy Sidewalks Specifics
State law restricts snow removal into the street or its shoulder. Improper removal of snow requires local government intervention. Cities must notify the owner/occupant of their duty to clear the accumulation before facing fines. This notification will come to the resident in person, via phone, mail, or posted on the property. If the owner/occupant still fails to clear accumulation from the sidewalks, they then will face charges. The city will hire a third-party to clear the snow, ice, or slush, and hold the owner/occupant accountable for the fee.
Cars Covered In Snow
Michigan law restricts the operation of a vehicle if any object impairs the driver's line of sight. Unfortunately, for those of us who dread clearing snow off our cars in the morning, this includes snow. Driver's must either be able to see out of their rear windshield OR out of their side mirrors AND rearview mirror. However, it is also illegal for snow or ice to fall off cars and onto the road while driving. Drivers who fail to clear their cars properly may face tickets and fines.