What are the Laws Pertaining to Skiing in Michigan?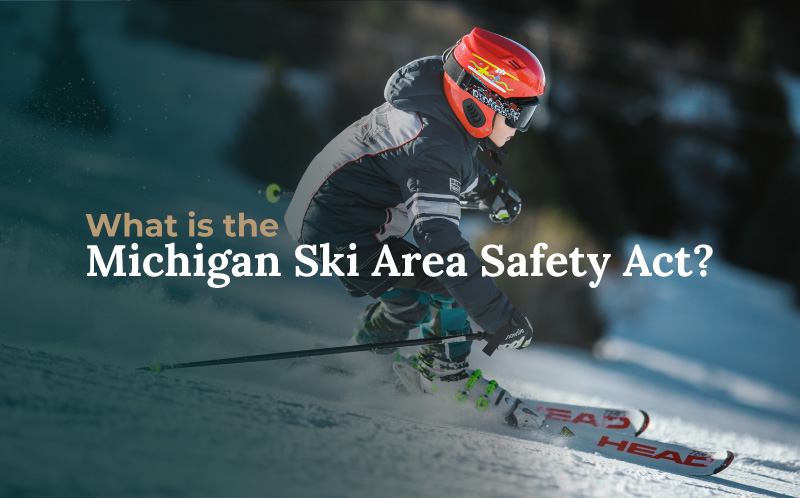 Skiing is a great way to get outside and enjoy those colder Michigan months. However, ski hills can also be a place where injuries occur. Because of this, Michigan has enacted certain laws to keep skiers safe and set forth rules skiers and ski hills must follow in order to do so. West Michigan personal injury lawyer, Tom Sinas, discussed the ins and outs of the Michigan Ski Safety Act as well as the laws pertaining to skiing in Michigan recently on a segment of Fox 17 "Know the Law."
Michigan Ski Area Safety Act
Passed in 1962, the Michigan Ski Area Safety Act sets forth basic rules outlining what is expected of skiers and what is expected of ski hills. One of the things that this statute acknowledges and that Michigan Courts have interpreted is that when people participate in skiing, they are accepting certain inherent dangers. The law calls these inherent dangers "obvious and necessary." These two kinds of dangers in the statute fall under "natural dangers" and "unnatural dangers." Natural dangers of skiing include snow under skis, ice development on the skiing hill, and skiing over rough or bare patches. Unnatural dangers of skiing are those you typically expect to encounter on a ski hill, such as the ski lift, buildings, and snow-making equipment. 
Rules Skiers and Ski Hills Must Follow
Under the law, skiers must ski safely. Specifically, they must maintain reasonable control of their skis at all times. Skiers must also know where they are able to ski and where they are not able to ski. When skiers do not maintain a safe speed or go beyond their ability, the skier is out of bounds regarding the rules that apply to them under the Ski Area Safety Act. 
Ski hills must mark certain obvious things. Specifically, ski hills must mark which type of hills people are encountering in terms of difficulty – you will see these denoted as blue, green, and black. Ski hills must also post trail maps and notify people when certain areas are closed. They must also make sure all snow grooming equipment is equipped with a flashing yellow light, and snow-making equipment must be marked with a sign. 
What if I am Injured While Skiing?
Over the years, Michigan courts have addressed various cases where someone is injured while skiing and then pursues a personal injury claim. These cases deal with the interpretation of the Michigan Ski Safety Act and the common law of negligence. In short, Michigan courts have held that an injured skier needs to show that the other skier or the ski hill acted in violation of the Michigan Ski Safety Act and that the conduct was not simply a failure to follow common law reasonable care standards.  A seminal case was the 2006 Michigan Court of Appeals decision in Rusnak v. Walker, which involved a personal injury claim by one injured skier against another skier who caused a collision on the hill.  As the court stated, "we hold that a plaintiff assumes the risk of colliding with another skier because that is what the Legislature has specified under MCL 408.342(2), but a plaintiff can still recover limited damages against an individual skier if the plaintiff can prove that a defendant violated the duties placed on skiers and that the defendant's violation of the SASA caused the injuries suffered by the plaintiff. . ."  Thus, ski injuries involve rather complex legal and factual issues, so injured skiers should consider consulting with a competent personal injury lawyer.  
More from Tom's "Know the Law" Campaign