Do's and Don'ts of Social Media After a Car Accident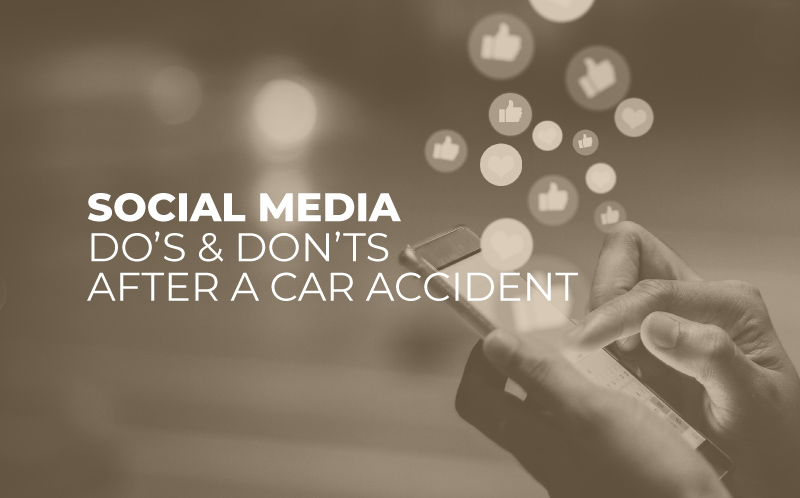 While social media platforms are a popular way to share our daily lives with friends and family, they can also pose a danger to your auto accident injury claim. Posting about damage to your vehicle, the injuries you sustained or venting about the accident being "the other driver's fault" might seem trivial, but please take a moment to read this article and consider the many ramifications that may unfold because of those posts. As Michigan auto accident attorneys, we always suggest victims of car accidents to refrain from publicly commenting on their crash, especially on social media. Your "highlights reel" has the potential of impacting your claims for no-fault benefits as well as any potential suit against the driver responsible for your accident.
When Social Media Posts Contradict Injuries
Under Michigan no-fault law, motorists may bring a lawsuit for injuries and for pain and suffering following an auto accident if their injuries meet a certain condition known as a "threshold injury." In Michigan, a threshold injury is defined as "serious impairment of body function," "permanent serious disfigurement," or death. In short, in order to be considered "serious enough" to pursue certain damages, injuries must meet a certain threshold requirement. When determining whether or not your injuries meet the threshold requirement, the defense will use your social media postings to discredit your claims. For example, if you injured your leg in a car accident, and then post videos of you dancing on that leg after the accident, this may be seen as contradictory by an insurance adjuster investigating. Ultimately, you can jeopardize your claim by doing so. Therefore, it's best practice to adhere to the following recommendations to ensure your social media can't be used against you:
Social Media DON'TS After a Car Accident
DON'T talk about the accident 
We've all seen a post about someone's recent car accident on social media. While you might be tempted to do the same following your own accident. However, you should refrain from doing so for several reasons. For example, many people post about their car accident in a positive way – such as updating friends and family that they are "recovering well" or "antsy to leave the hospital and get back to normal." While this attitude is commendable, it should not be shared on social media as an investigator may see it as evidence that your injuries do not meet the threshold. As a precaution, you should refrain from posting any statuses about the accident, photographs of the accident, and updates to your medical information or status following the accident.
DON'T forget about other social media accounts
With the plethora of social networking platforms available, it's common to sign up for a social media account on a site you may not frequent any longer. However, it is important to either delete these accounts or begin closely monitoring them again following an accident. While you may not use Facebook regularly, for example, your friends and family could be tagging you in potentially implicating photos or posts without your permission – all of which could jeopardize your claim if they fell into the wrong hands.
Social Media DO'S After a Car Accident
DO set your profiles to "private"
Setting your social media accounts to "private" will make it more difficult for others to find and access your account. In fact, asking friends and family to turn their accounts to private while you pursue your claim is best. It is also important to constantly maintain your privacy. Do not accept friend requests from people you do not know and instruct your friends and family of the same.
DO keep your own records but keep them "offline"
It is good practice to take photos and make notes of the aftermath of your accident. Save any evidence you may have on your phone or computer in case you need them while pursuing your claim. However, keep these records private – do not share them online or with anyone else besides your attorney.
DO instruct your family members not to post anything about the accident or yourself
While your family members may want to lament over your accident online or vent to their own friends about the accident, you should encourage them not to do so. The defense can use what your family says about your accident as evidence against your claim. In short, their words could potentially limit your ability to recover damages. Similarly, you should instruct family and friends to refrain from tagging you in anything, especially if it involves a photo of you after the accident that may be used against you.
DO be careful about "checking-in" online
"Checking in" to establishments is one of the newest social media trends and is extremely popular on Facebook. However, there are good reasons to avoid checking in after an accident. For example, if you claim to have a terrible injury that limits your ability to move, check-in at your local gym will seem very suspicious to investigators and can pose as contradictory evidence to your claim.
DO talk with an attorney about social media use
The most important step to take after an accident is to contact an experienced auto accident attorney. Attorneys dedicated to the practice of auto injury litigation will help protect your rights. Your attorney will be able to answer any questions you may have about your social media accounts following an accident. For example, an attorney may instruct you not to delete anything you have already posted. Deleting such posts could be considered destruction of evidence. To best protect yourself and your claim, speaking with an experienced attorney before using social media after a car accident is vital.
If you're wondering "is it okay to post about my car accident on social media" the short answer is – no. Refrain from doing so and contact an experienced auto accident attorney to help protect your rights.
RELATED READING
---
What is a Threshold Injury? No-Fault Reform Provides Further Clarification