Congratulating Attorney Jim Graves on 50 Years of Practice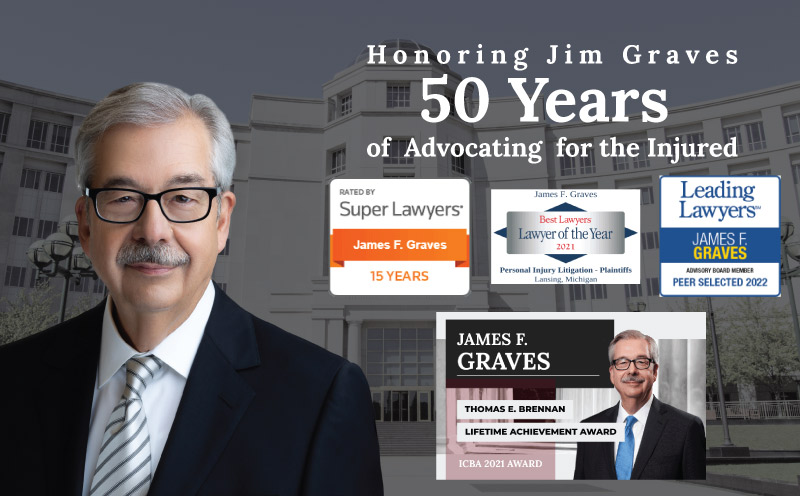 When you celebrate an anniversary of 10 years, 20 years, or even 30 years it's considered quite an accomplishment. However, when that anniversary is 50 years, and the thing you've been doing all of that time is standing up for the rights of those who are injured in Michigan, you're in special company. Sinas Dramis Law Firm is pleased to recognize this very achievement by one of our firm partners Jim Graves.
Following his graduation from the University of Michigan in 1969 and later, from Wayne State University, Cum Laude, in 1972, Jim was admitted to the Michigan Bar, thus beginning a successful career representing the people of Michigan and Illinois in various personal injury matters. When speaking with new or potential clients, Jim has always wanted them to know that with him they have a partner, and a trusted advisor to help see them through their situation. One of Jim's many clients said it best when they recognized his genuine care for them and their family:
"Jim was consistently accessible, answered every question we posed thoroughly, and expertly guided us through every aspect of the legal process. We are convinced that Jim is the best of the best, in every way, and highly recommend him."
In his diverse practice, Jim has handled a number of high-profile cases that include the representation of clients in the Flint Water Crisis and MSU/Nassar Sexual Abuse Scandal, as well as significant and complex wrongful death, motor vehicle, and aviation accident claims. His work on behalf of his clients has led to a number of recognitions, some of the many include Ingham County Bar Association's, Leo Farhat Outstanding Attorney Award and Thomas E. Brennan Lifetime Achievement Award, Lawyer of the Year in 2021 by Best Lawyers, and 15+ years of recognition by Michigan Super Lawyers. Jim also served as President of the Ingham County Bar association and the Ingham County Bar Foundation.
Over the last 50 years, Jim Graves has earned a reputation as a highly respected expert in Michigan personal injury law. Please join all of us as Sinas Dramis Law Firm in congratulating Jim on 50 years of providing excellence, integrity, and results for those who need someone in their corner.