When Home Isn't Safe – Domestic Violence Resources During COVID-19 Michigan Shelter-In-Place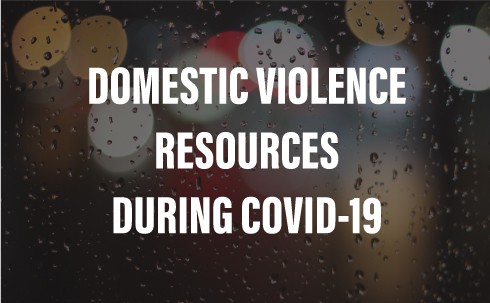 Victims of domestic violence often feel trapped in their relationship, and under the current Michigan shelter-in-place order, that is a prominent reality for many. A recent statement from the Executive Director of the Safehouse Center explains concerns posed by COVID-19 for domestic violence victims, including isolation, lost access to help, and fear of exposure to the virus when leaving the home. If you are stuck at home with an abusive partner, there are still resources and services available to help you during the COVID-19 pandemic. 
Update: On April 27, 2020, the Michigan Supreme Court enacted Administrative Order No. 2020-11 to provide further protection for those living in situations of domestic violence. Per the order, any existing Personal Protection Order (PPO) set to expire between April 27, 2020, and June 1, 2020, is automatically extended to July 21, 2020. Those objecting to this order can file a motion to modify or terminate the PPO. This Administrative Order will help keep essential court functions to a minimum while also ensuring vulnerable people remain protected.
Update 2: In December of 2020, Governor Gretchen Whitmer passed the Address Confidentiality Program, which protects victims of domestic abuse, sexual assault, human trafficking, and stalking by keeping their physical address confidential and out of the hands of their perpetrator. 
Many open call-lines, service organizations, and shelters remain open for domestic violence victims in need. Services available include:
Local police department – While the police department is not responding to as many calls during this time, they are still responding to domestic violence and sexual assault calls. You can still call (or text) 911 to receive help in the case of an emergency.
Personal Protection Orders (PPOs) – Can still be filed and are still being upheld. If you need help filling out your petition for PPO, the EVE 24-hour hotline is available to assist you over the phone or Zoom.
Mental health counseling – If you are in need of remote counseling, EVE and the MSU Sexual Assault Program offer over-the-phone services. See contact information for both organizations below.
Domestic Violence Resources During COVID-19
911 Dispatch: Call if You Can, Text if you Can't
Domestic violence and sexual assault victims can reach emergency help by calling 911 or can text 911 if unable to make a phone call. Although police services are limited during this time, that limitation does not include responding to domestic violence or sexual assault calls. In order to use the text-to-911 feature:
Open a new text message and type 911 (no dashes) in the "To" field.

Your first text message should be brief and contain your location and the type of help needed.

Be prepared to answer questions and follow the response instructions from your dispatcher. Keep your messages clear and concise.

Be aware that this feature is not offered in every county in Michigan. If you are in an area without this service, use one of the crisis chat lines listed below.
The National Domestic Violence Hotline
This line is open 24/7 at 1-800-799-7233, by texting LOVEIS to 22522, or through a live chat service at thehotline.org/help/. Services include life-saving tools and immediate support in over 200 languages. Those who are deaf or hard of hearing may use TTY 1-800-787-3224 or contact the National Deaf Hotline by video phone at 1-855-812-1001 or email nationaldeafhotline@adwas.org.
End Violent Encounters (EVE)
EVE offers a 24-hour crisis line at 1-517-372-5572 or through a live chat online at eveinc.org/24-hour-hotline. This line serves as not only an emergency line for those seeking shelter but connects victims and their families to resources that can help with counseling, legal aid, PPOs, and more.
YWCA Domestic Abuse Assistance
With many locations, this organization provides resources and support for victims. Contact a center near you from the list below, or through the organization's national website at ywca.org/.
211 Assistance Line
The 211 line is open 24/7 to connect victims with help such as housing support, financial assistance, and more. Visit mi211.org to learn more or call 211 to speak to a representative.
MSU Center for Survivors
Formally known as the MSU Sexual Assault Program, the MSU Center for Survivors also has a 24/7 crisis hotline at 1-517-372-6666. A crisis chat is also open from 10 am until 10 pm for victims to text online at centerforsurvivors.msu.edu. Although the building is closed, remote services such as advocacy and counseling are available.
Capital Area Response Effort (CARE)
CARE does not have a crisis line but can be reached at 1-517-272-7436 to set up appointments for help in emotional support, safety planning, PPO assistance, community referrals, and more. This organization also has a community needs closet available to victims. 
Please, everyone, stay safe! We wish everyone the best during the Michigan shelter-in-place order. Please use these domestic violence resources if you need them during this already difficult time.