Michigan Sexual Assault Attorneys
We hear you. We believe you. We're here to help.
No one should suffer in silence after experiencing sexual assault or abuse. Our compassionate Michigan sexual assault attorneys understand that coming forward can be a challenge for many, but please know, we are here to listen and help. Every step of the way, we are here for you. We'll assist with gathering documentation, physical evidence, witnesses, and any other evidence that might be needed to win your case. We will keep you up-to-date on the developments of your case and will fight for the justice you deserve.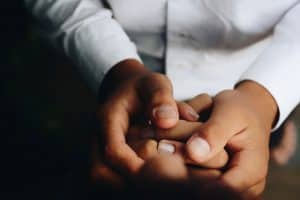 What is the definition of sexual assault in Michigan?
Sexual assault in Michigan is defined as forcing or coercing an individual to engage in any non-consensual sexual contact. The law regarding sexual assault in Michigan is called the Criminal Sexual Conduct Act. This Act is gender-neutral and includes marital, stranger, date, acquaintance, and child sexual assault.
Reporting Sexual Assault – Reasons Survivors Often Remain Silent
Coming forward takes courage. It's hard to talk about and brings up unwanted memories. Survivors most often stay silent for the top following reasons:
Fear of reprisal
Personal matter
Reported to a different official
Feel crime wasn't "serious enough"
Fear of lack of evidence
Belief that the police won't or can't do anything to help
Not important enough to respondent
Afraid the offender will get in trouble
Don't want family to know
Don't want others to know
Not enough proof
Fear of the justice system
Don't know how to report
Unsure about perpetrator's intent
Know Your Rights
Criminal Law
Michigan has enacted criminal laws to protect victims of sexual assault. The State enforces these laws, which give victims the following rights and relief:
Punishment of the perpetrator under the criminal penal code
Notice of the perpetrator's arrest and release
Information regarding the status of criminal prosecution
Evidence kit testing and results
Granting and enforcing a Personal Protection Order (PPO)
Civil Law
In addition, victims may seek civil remedies from third-parties in certain situations to receive monetary compensation for their injuries, harm, losses, and other damages. These are the kinds of cases personal injury attorneys can assist with and commonly involve the following scenarios:
Institutional sexual assault – These cases are based on statutory and common law duties for institutions with knowledge of sexual abuse within the organization to report the abuse to an appropriate entity. Institutional sexual assault cases involve an employee or agent of an institution who assaults a participating member of the institution. Examples of institutions include schools, colleges, medical providers, nursing homes, governmental agencies, and churches. In many cases of institutional sexual assault, the two parties know each other (doctor/patient, teacher/student, caregiver/patient, priest/parishioner, for example).
Housing property assault – These cases involve a victim being assaulted at a housing complex, such as a rental home or apartment building. In this type of setting, a landlord or property owner is required to meet industry security standards and governmental safety regulations to protect the safety of their tenants from foreseeable criminal acts of others, including sexual assaults. Common situations involve inadequate locks, lighting, security, or dangerous persons in "common areas" of the premises.
Innkeeper property assault – Michigan law recognizes a special relationship is formed when a member of the public entrusts an innkeeper to provide temporary living arrangements. Hotels, resorts, cruise lines, online vacation rentals, and others holding out their property for rent to the public have a duty to provide safe accommodations to their guests. These cases are similar to housing property sexual assaults, requiring an innkeeper to meet industry security standards and comply with governmental safety regulations on the premises.
Are You a Victim of Sexual Assault at a Hospital or Medical Clinic?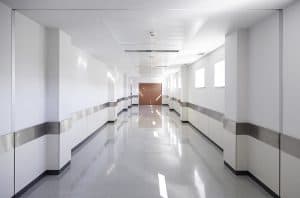 You trust medical professionals at hospitals, clinics, and healthcare facilities to fix what's wrong when you're sick or injured. Not make it worse. Unfortunately, sexual assault at these institutions isn't completely unheard of. Patients often require care and procedures that leave them alone in the company of staff members or other patients, and sometimes these routine medical treatments can lead to criminal sexual misconduct. If you're a victim of sexual assault at a hospital, healthcare facility, or as a patient, there are certain rights and protections you are entitled to certain rights and protections. These organizations are required to keep their patients safe, and when they fail to do so, they can be held civilly liable. We represent victims in civil suits against hospitals and healthcare organizations, and passionately pursue compensation for the injustice they've experienced.
Trust, Compassion, and Experience You Can Rely On
Led by partner and attorney, Jim Graves,  along with Michigan sexual assault attorneys, Stephen Sinas, Steve Weston, Jackie Dupler, and Jon Homa, are committed to you and the justice you deserve. Don't go it alone.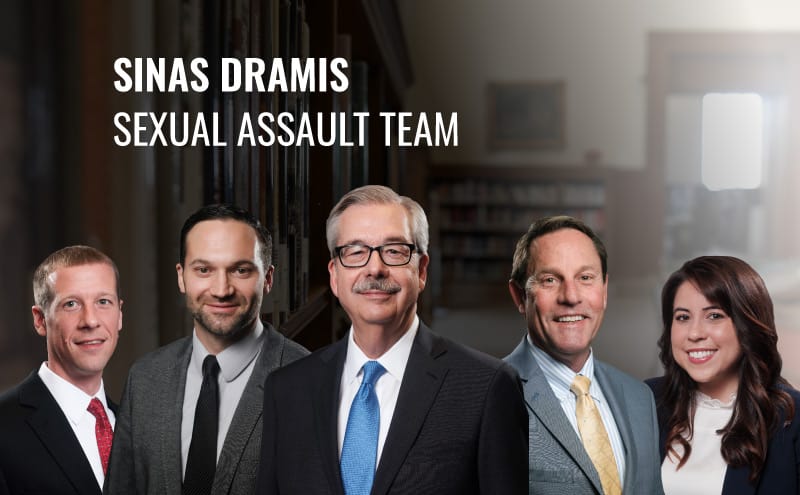 Our success isn't just based on the compensation we obtain for our clients. Our true measure of success is making strong statements to organizations that fail to protect our loved ones from the horrible acts of others and serving justice to the individuals conducting these acts.
Victims of sexual assault can suffer a lifetime of physical and emotional damage. Oftentimes, the criminal justice system fails to prosecute the offenders or obtain convictions, terribly failing victims and their families. This is where personal injury attorneys step in. By pursuing a civil claim against perpetrators and other liable entities, justice is possible. We have experience successfully handling sexual assault cases in Michigan and Illinois. Rest assured, we will fight for you.
Contact Our Michigan Sexual Assault Attorneys Today
If you or a loved one are a victim of sexual assault, you deserve justice, support, and to move forward with your life. In a confidential and free initial case review, we will listen to your story. Contact us online or call us at (517) 394-7500 today.
Additional Resources for Victims of Sexual Assault in Michigan
U.S. National Domestic Violence Hotline 800.799.7233
National Sexual Assault Hotline: 800.656.HOPE (4673)
Find Help Near You