How Commercial Vehicle Crashes Differ From Other Motor Vehicle Crashes in Michigan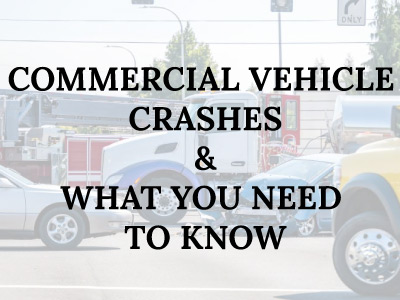 With the continued increase of online shopping, in addition to everyday supply chain demands, the number of commercial vehicles on the road is higher than ever. We know that these commercial vehicles are much larger than your typical motor vehicle, and when they're involved in crashes, they're often very serious for the individuals behind the wheel. When they happen, there's a lot to consider, particularly in the realm of liability and who might be responsible. In this article, we'll answer questions about commercial vehicle crash liability and explain how these crashes differ from other motor vehicle crashes in Michigan.
How are Commercial Vehicle Crashes Different from Other Motor Vehicle Crashes in Michigan?
It might be easy to assume that a crash involving a commercial vehicle or semi-truck is going to look like that involving multiple standard motor vehicles, but that is not the case. There are several key differences that make these types of crashes different:
Liability – While, yes, the most obvious choice of a person who is liable in a crash is the driver who caused the crash, when it comes to commercial vehicles, these vehicles can include other entities, like the owner or company that owns the vehicle, and more.
Federal Regulations – Commercial motor vehicles are also subject to special state and federal regulations when it comes to the rules of the road that they must follow, which are different from the rules for traditional cars. Thus, there's more to consider when determining fault in a crash involving a commercial motor vehicle.
Additionally, the steps taken by lawyers who might represent those injured in crashes involving commercial vehicles will also look different. Defendants in these types of cases often move quickly when building their case, and it's crucial that the right evidence is collected early, and the process is set in motion sooner rather than later. Additionally, the injuries sustained in these types of crashes are typically more severe, and in some cases, that can affect how truck accident lawyers must proceed when filing a case.
Who are Some of the Potential Defendants in Commercial Vehicle Crashes?
Liability in a crash involving a commercial vehicle can include the driver responsible for the crash and other potential entities. This area of law involves what is called vicarious liability, meaning another entity is responsible for the acts of another person. This is most commonly seen in an employee-employer type relationship. Where an employee does something negligent, their employer is then responsible for their conduct. Additionally, liability could also extend to the owner of the semi-truck, the owner of the trailer, and other entities involved in the transportation cycle.
Why the Existence of Different Defendants Important for Injured People
Those injured in these types of crashes need to understand that in these types of situations, different kinds of potentially liable defendants lead to different kinds of insurance coverage. In Michigan, under new no-fault reform passed in 2019, there are people who no longer have access to unlimited medical coverage under their own insurance, meaning that they might be forced to seek compensation for future medical expenses from other entities liable in the crash. The analysis of who is potentially responsible is a very significant aspect of any case involving a commercial vehicle.
Obtain Experienced Legal Representation
If you or a loved one is seriously injured in a crash with a commercial vehicle, it's important you find experienced legal representation. These cases can be very complicated, and those defending commercial vehicles can be formidable opponents. It's important you find an attorney who has experience handling these cases and one that you can trust to serve your best interests. At Sinas Dramis Law Firm, with more than 70 years of experience in this area of law, we value building trust with our clients, and that's why we offer free consultation of your case and will never pressure you to select our firm. That decision is yours to make, and we'll do our best to help you regardless of your decision when you interact with our firm.