Michigan Winter is Near | Prepare and Know Local Snow Removal Ordinances in Lansing and Grand Rapids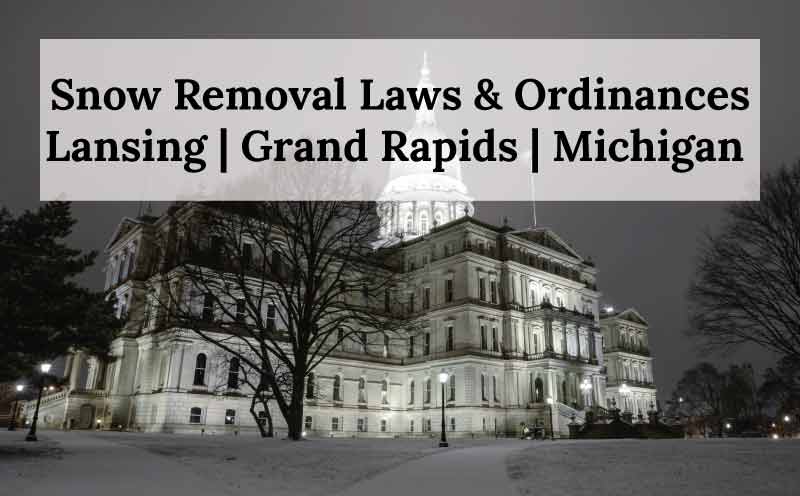 In Michigan, there's no telling when the first storm will cover the state in Snow and Ice, but as temperatures drop in October and November, it's only a matter of time. Unfortunately, it's not until that first bout of winter weather that people often wonder about snow removal laws, and what they're required to do at and around their homes. In the text below Sinas Dramis Law Firm has you covered with a refresher on local snow removal ordinances in Lansing and Grand Rapids.
Local snow Removal Ordinance in Lansing
In Lansing, the city has what's called a local ordinance also known as a city law, on the books, that addresses snow removal. According to the ordinance on the book:
"No person shall permit any snow or ice to remain on any public sidewalk adjacent to any house, building or lot owned or occupied by that person, or on the public sidewalk adjacent to any multifamily dwelling or unoccupied house, building or lot owned by that person, for more than 24 hours after the same has fallen or formed."
Snow Removal cannot impair traffic of motor vehicles or pedestrians.
Those who fail to abide by Lansing snow removal laws listed above could face the following consequences:
Could be responsible to pay the city's assessed cost of their removal of the snow and ice in question.
Read more about the ordinance here.
Grand Rapids Snow Removal Ordinances
Grand Rapids handles snow and ice removal like that of Lansing. Under a specific city ordinance, homeowners are required to remove ice and snow from sidewalks within 24 hours of formation. Also like laws in Lansing, owners, and occupants notified by the city to remove snow and ice and fail to do so within 48 hours of the notification, could owe the city's assessed cost of their removal of the snow and ice.
Read more about Grand Rapids snow removal laws here.
Removing Snow and Ice in Michigan
In addition to snow removal ordinances in Lansing and Grand Rapids, the State of Michigan has its own laws regarding snow removal. The law says in regard to snow removal, that removal cannot be put onto or across roadways, or any roadway shoulder that could obstruct the safety and vision of a driver.
Additionally, the state has snow removal laws drivers must keep in mind when it comes to snow and ice build up on their vehicles. Those include:
Snow on the vehicle cannot obstruct the driver's view, and it must be removed before operating the vehicle.
Additionally, a state statute clearly states drivers can't do anything to cause snow, ice, or slush to end up in the roadway. Meaning failure to improperly remove snow from your vehicle could cause you to be in violation of that statute.
Failure to abide by these snow removal laws could subject those in violation to civil fines. Additionally, should unremoved snow and ice on a vehicle play a role in an accident on the roadway, the driver could be in violation of the Michigan standard, that every motorist owes other motorists a duty to exercise reasonable care. Failing to use reasonable care can subject the motorist to civil liability in addition to other types of fines and recourse under other state statutes. If you've been injured in a car crash caused by someone else, contact our Lansing auto accident attorneys, or our Grand Rapids car accident lawyer team for a free consultation.