Trusted Lansing Divorce Lawyer
Helping You Move Forward
Divorce is never something you plan for, but sometimes relationships just don't turn out the way you hoped. If you find yourself considering a divorce, it's time to talk with a Lansing divorce lawyer.
Your Case Deserves a Skilled Lansing Divorce Lawyer
Michigan divorce rates are similar to U.S. averages: nearly 50% end in divorce for one reason or another. More often than not, this is an overwhelming time for most. Between work, family commitments, and taking care of yourself, there's probably not much time left in your schedule to figure out the best way to end your marriage. This is the first reason to hire a skilled and professional Michigan family law attorney. Other reasons include:
Objective advice during an emotional time.

Divorces can be a highly emotional time for both parties, which makes long-term decision making that's best for your family a challenge. The family law attorneys at Sinas Dramis Law Firm focus on presenting clients with facts and options. We will continually remind you to keep emotions in check and help establish reasonable expectations for your case. When emotions are running high, it also is to your benefit to have an attorney act as a buffer between you and your soon-to-be ex-spouse.

Fast divorce procedure.

Let's face it, the divorce process can be miserable. A reputable attorney helps expedite the process due to their thorough understanding of the law.

Help ease the load.

Life is busy and chaotic, and the last thing you want to juggle is a divorce. A divorce lawyer dedicates their time to ensuring nothing is missed in your case, freeing up your time so you can focus on moving forward.

Understanding your rights and options.

When you self-represent, your judge will hold you to the same standard as a board-certified family law attorney. Unfortunately, chances are you don't have time in your busy schedule to fully understand all the ins and outs of family law. Ultimately, this could put you at a disadvantage. A family law attorney will discuss all your options, including:
Child support
Spousal support
Property division
High-asset divorce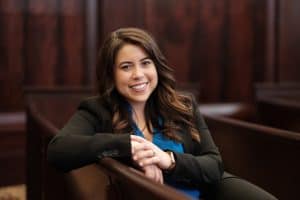 Jackie is a skilled and compassionate family law advocate. She's passionate about navigating clients successfully through family law issues while minimizing pain-points often associated with these matters. Jackie graduated from MSU with double majors before attending and graduating from Michigan State University College of Law.
Her clients most notably appreciate her calm confidence, which lends itself highly beneficial in the courtroom. Furthermore, she is constantly reminding clients, "We will get through this together."
Jackie is involved with the Women Lawyers Association of Michigan, is a board member of the Young Lawyers Section of the Ingham County Bar Association, and was recognized in 2017 as a "Top 5 Under 35" by Ingham County Bar Association. In her spare time, she is a fitness instructor, enjoys training for half-marathons, and is an avid MSU fan.
While Jackie works out of the Sinas Dramis office in Lansing, conveniently located near the I-496/US-127 interchange at 3380 Pine Tree Rd, Lansing, MI 48911, she assists clients throughout the state of Michigan. Call us for a free initial case review at (517) 394-7500.
I was very happy with the way Jackie handled my divorce case. Jackie was fair and honest, she didn't waste my time (and money) or the court's, which I also very much appreciated. She worked very hard for me and I know she would for anyone seeking her services. –Nate

Words cannot describe how grateful I am to Jackie for taking my case. She listened to my story and responded with the utmost and ultimate confidence. More than once, she went the extra mile and was always there for me above and beyond our client/lawyer relationship. It is my pleasure to recommend Jackie as a very qualified attorney who can handle any unique situation. –Karen

Jackie changed my perception of lawyers and is very professional, knowledgeable, and detail-oriented. I would hire her for any future legal matters needed.–Jennifer

Ms. Dupler guided me through an extraordinarily difficult divorce. She listened to my priorities for this divorce and helped me achieve the best outcome for me and my children. The absolute best thing about Ms. Dupler as my attorney is that I trust her. I trust her when she says, "We will get through this." –Anonymous

Jackie Dupler helped me navigate through the divorce process with ease and made the experience as painless as possible. I would absolutely recommend her without hesitation. –Anonymous
Divorce in Michigan — the Specifics
Michigan is a no-fault divorce state, which means either party can file for a dissolution of marriage at any time for no reason other than irreconcilable differences. While fault does not need to be established in order to divorce, it can factor into property division or when parties request spousal support. Finally, Michigan family law states filing for divorce can take place once one of the parties has resided in the state for at least 180 days. You must file in the county in which you have resided for at least 10 days.
The Sinas Dramis Advantage
If you're overwhelmed and feeling intimidated, don't go it alone. Let our compassionated family law attorneys advocate for your rights and help you achieve the best possible outcome. While other firms may push for settling in court — which racks up billable hours and expenses for you — we believe in focusing on our clients. Oftentimes, we encourage you to come to a resolution with your former partner without involving the courts to save you time, pain, and money. However, when court intervention is necessary, we provide superior, assertive legal representation you can rely on.
Considering a divorce? Contact us to schedule an initial consultation with our Lansing divorce lawyer, or call us at (517) 394-7500.
From the Family Law Blog