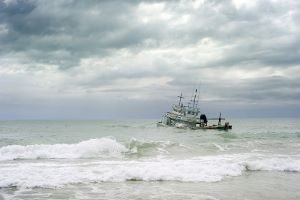 Surrounded by the Great Lakes, Michigan is an ideal place for boating, whether it's recreational or commercial boating activities. Unfortunately, however, boating can be dangerous and accidents can — and do — happen.
Persons who are injured in Michigan boating accidents, either on a merchant vessel or a pleasure boat, may be able to get financial compensation. Boating accidents that occur on the water are governed by a specific set of rules and regulations known as Admiralty or Maritime Law.
Commercial Boating Accidents in Michigan
The owners and operators of commercial vessels have the responsibility to ensure that the ship or boat is in good operating condition and that it is piloted safely. When these responsibilities are not complied with and an accident resulting in injury or death occurs, those responsible may have legal liability.
Commercial boating accident cases frequently involve the following questions:
whether the boat was properly manned.
whether the seamen on board were properly trained.
whether the boat was properly maintained.
whether the boat operator followed standard protocol in the operation of the vessel.
Private Boating Accidents in Michigan
Where injury occurs as a result of a private (recreational) boating accident, the owner or operator of the private boat may have legal liability.
Injuries in private boating accidents frequently involve questions of:
whether the operator was under the influence of alcohol or drugs.
whether the boat had the proper safety equipment, including life jackets.
whether the boat was properly maintained.
Boating Laws – General Negligence
If you're injured in a boating accident in Michigan, general negligence laws apply, which means you must prove that the operator of the boat that caused your injuries failed to use reasonable care and that failure caused your injuries and damages. General negligence theory applies to both boat operators and boat owners. In this regard, Michigan law presumes that, if you own a boat but a family member is operating it, you have likely consented and are therefore liable if they cause an accident resulting in injuries to others. Owners/operators are liable for all damages sustained as a result of the accident. These damages can include medical expenses, lost wages, and pain and suffering, etc.
Fox 17 Know the Law – Boating Accidents
Boating Accident Investigations and Mandatory Reporting
With so many bodies of water in and surrounding Michigan, jurisdiction can vary in boat accident cases drastically. Depending on where an accident occurs, anyone from local law enforcement and county law enforcement to the coast guard involved. It's also important to remember that, when something serious occurs on a boat such as significant injuries or death, it is mandatory to report it to the nearest law enforcement agency immediately. Owners/operators are also required to submit a written report within 48 hours to the Department of Natural Resources if an injury or death occurs on their boat.
Why You Need A Michigan Boating Accident Lawyer
Anyone who is injured as a result of the use of a private boat or a commercial vessel should protect their legal rights by seeking advice from an experienced boating accident attorney. Understanding Michigan boating laws is the first step in protecting your rights.
Our attorneys have compiled a 2018 Michigan Boating Laws article. Make sure you're ready before hitting the lake! Also, in this video, Grand Rapids personal injury attorney Tom Sinas discusses Michigan boating laws and safety on the water:
Fox 17 Know the Law – Michigan Boating Laws
If you or a loved one has been injured in a Michigan boating accident, our Grand Rapids personal injury attorneys and Lansing personal injury lawyers are available to answer your questions. Contact us today for a free consultation.