Brain Injury Accident Cases
The personal injury attorneys at the Sinas Dramis Law Firm are uniquely poised to handle brain injury cases; after all, we have been doing so for decades.
In Michigan, over 10,000 individuals suffer some sort of trauma to the brain every year due to an auto accident or other causes. Thirty (30) percent of those are brain injuries or other brain trauma as a result of an auto accident. Medical and technological advances have helped improve the way of life of brain injury accident survivors, which means that individuals are now living with their injuries longer than they would have in the past. While this is a testament to how far we have progressed, this also presents unique challenges that become apparent when litigating cases where trauma to the brain has been sustained.
We know that those with brain injuries, especially those that are more severe in nature, will need additional care and resources in order to assist them in living their everyday lives. If you or a loved one have experienced injury to the head from a car accident, playing sports, or a slip-and-fall incident, some of these injuries may sound familiar to you:
Traumatic brain injury
Closed head injury
Concussion
Brain hemorrhage
Over the years, our attorneys who handle brain injury cases have helped numerous individuals in Michigan seeking to recover from their brain injuries. Through effective legal advocacy, our law firm has fought – and will continue to fight – for our clients' right to access the medical care and benefits they need. Throughout our decades of experience, we have come to understand that individuals suffering from these injuries may be in for a difficult journey. Let us help you fight some of your battles so you can place more focus on your recovery. Let us help you gain access to the benefits and compensation you deserve so you can move on.
Brain Injury Attorneys helping people across the state
Advocating for our Clients
As part of our personal injury practice, our lawyers handle traumatic brain injury cases all over Michigan. Advocating for survivors of traumatic brain injury is an honor we take very seriously. We have worked hard for over 60 years to advance the rights of traumatic brain injury victims throughout the state. At the Sinas Dramis Law Firm, we believe wholeheartedly in "helping people know the law," a mission that dates back to the founding of our law firm in 1951. We do this through our representation of thousands of people throughout Michigan. While providing high-quality legal representation, we strive to educate our clients about the law governing their case, such as the Michigan auto no-fault law (if you were injured in an auto accident).
Michigan attorney, George Sinas, serves on the Board of Directors of the Brain Injury Association of Michigan (BIAMI), an organization that has done so much to advocate and protect the rights of brain injury victims, their caregivers, and their families. In addition, a number of our attorneys have attended conferences and participated in seminars about the legal aspects of caring for brain injury survivors, especially in the auto no-fault context. We understand that those who have sustained this type of injury have a long road ahead of them, which is why they deserve to have access to the benefits they deserve under Michigan no-fault law.
As part of his commitment to brain injury victims across the state, George Sinas also serves as General Counsel to the Coalition Protecting Auto No-Fault (CPAN), an organization which advocates for the protection and preservation of the Michigan no-fault system and the generous benefits, allowing those who have suffered trauma to the brain due to auto accidents to get high-quality treatment they might not otherwise have access to as a result of our current system.
Preventing brain injuries, one helmet at a time
Community Outreach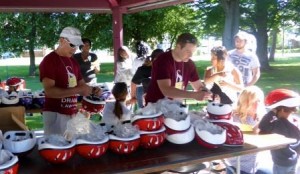 In addition to protecting brain injury victims by helping them with their legal claims against insurance companies and those at-fault for causing their injury and suffering, our law office is also committed to preventing brain injury accidents, especially with children.
Partnering with a number of local and state-wide organizations, including Origami Brain Injury Rehabilitation Center and the BIAMI, our law firm started Lids for Kids in Lansing, Grand Rapids, and Traverse City. These programs aim to provide school-aged children with bicycle helmets as well as teach them the importance of riding safely. Many of the children who benefit from this event might not otherwise be able to afford bicycle helmets, and riding without a helmet is just too risky of an endeavor.
We have given away over 4000 bicycle helmets to children in the Lansing, and Grand Rapids area, and will continue the condition for years to come. Why? Quite simply, our view is that if we can prevent even one brain injury from happening to a child, it's well worth it.
Concussions in Children
Concussions in children are more common than we would like to admit. In addition to riding their bicycles, children are involved in a myriad of activities, especially sports, where suffering a concussion or other type of head injury may not be out of the ordinary. In fact, in 2009, close to 250,000 children in the United States were treated for a sports-related traumatic brain injury (TBI) accident or concussion. Fall-related TBIs are also common in younger children.
As increasing awareness is brought to the risk of sustaining head injuries while playing sports such as football, more attention is being paid to preventing life-altering head injuries in younger players, not just their professional athlete counterparts. On June 30, 2013, the Michigan Sports Concussion Law went into full effect, requiring, among other things, that:
both children and their parents receive educational materials related to concussions and other head injuries that might occur while playing sports;
coaches, volunteers, and other adults supervising youth would be properly trained in recognizing symptoms of concussion, and that they pull children off the field if they are suspected of suffering from a head injury;
children may not return to physical activity without written permission from an appropriate health professional clearing their return; and
a "concussion awareness training program in an electronic format" be created, including information regarding the nature and risk of concussions, criteria for removing an athlete from the field if they are suspected of sustaining a concussion, criteria for allowing players to return to the field, and the risks to athletes for failing to inform coaches or other supervising adults of a suspected concussion while continuing to play;
We hope you will find these pages to be helpful resources, answering your questions and concerns about brain injuries and their potential aftermath. As always, should you have any additional questions or concerns, or wish to discuss a potential legal claim, do not hesitate to contact our Lansing or Grand Rapids law offices for a free initial consultation.