Joel T. Finnell
Joel Finnell joined Sinas Dramis Law Firm in 2011 and quickly excelled at appellate law, earning a favorable published appellate decision in the first appeal he handled out of law school. He now primarily focuses his practice on representing clients in the Michigan Court of Appeals and Michigan Supreme Court.
As the firm's appellate attorney, he works very closely with our senior-most attorneys to develop successful legal strategies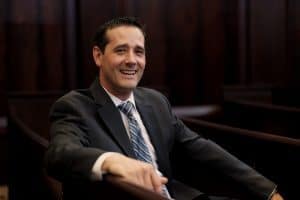 that will withstand an appeal all the way up to the state's highest Court. Other attorneys at the firm also call upon Joel to provide additional tactical legal support in heavily defended and more-complex cases. Joel's role at the law firm is very unique and is one that often sets Sinas Dramis Law Firm apart from other firms. Many firms do not have an in-house appellate specialist like Joel who possesses the knowledge and expertise that is required to provide top-tier representation in the Michigan appellate courts.
Joel's dedication and success in this role makes him a vital member of the firm, and his practice helps our attorneys stay ahead of the many complex legal issues that arise in auto no-fault, semi-truck, catastrophic injury, and wrongful death cases.
In Joel's words, what he enjoys the most about his practice is:
"Having the opportunity to do very meaningful work to help others while working with some of the most talented lawyers in the state."
Joel earned his law degree, cum laude, from Western Michigan University's Thomas M. Cooley Law School and his undergraduate degree from Eastern Michigan University, where he graduated with honors magna cum laude. He is admitted to practice in the state courts of Michigan, as well as numerous federal courts, including the United States District Court for the Western District of Michigan, the United States District Court for the Northern District of Illinois, as well as the Supreme Court of the United States.
Significant Appellate Victories
Of Joel's many successful appeals, he has most notably handled or been involved in:
Brown v Home-Owners Ins Co, 298 Mich App 678 (2012) – Set important legal precedent requiring no-fault insurers to pay work-loss benefits under

Michigan's No-Fault Act

for the loss of "flow-through" income earned by incorporated small-business owners.
Linden v Citizens Ins Co, 308 Mich App 89 (2014) – Set important legal precedent preventing no-fault insurers from denying no-fault benefits to minor children who had no way to comply with the No-Fault Act's one-year statute of limitations.
People v Timothy Panagis, Circuit Court No. 15-28686-AL (2016) – Received national attention in 2016 in the field of

bicycle law

when a bicyclist was unlawfully cited for "impeding traffic." However, dashboard camera footage made it clear the officer was driving too close to the bike, and the burden of correcting this distance rests upon motor vehicle operators in Michigan. The appeals court judge, Judge Reader, commented on Joel's exceptional brief, stating, "This is a

$10,000 brief for a $200 citation.

"
Swick v Farm Bureau, Unpublished Opinion of the Court of Appeals, Docket No. 324829 (2014) – Prevented a no-fault insurer from illegally relying on the

Michigan motorcycle helmet law

to deny auto no-fault survivors loss benefits to the surviving minor children of a fatally injured motorcyclist.
Bacon v City of Flint, Unpublished Opinion of the Court of Appeals, Docket No. 339009 (2018) — Successfully overturned the incorrect dismissal of a Flint water case brought on behalf of a Flint woman who fatally contracted Legionnaires' disease as a result of being exposed to the contaminated Flint public water supply. 
Hughes v City of Livonia, Unpublished Opinion of the Court of Appeals, Docket No. 340447 – Reaffirming the right of an elderly passenger to bring a cause of action against the city of Livonia for the negligent operation of a city bus.
Kulghert v Michigan State University,328 Mich App 357 (2019) — Successfully obtained the affirmance of several lower court rulings finding that our client's tort claim was not barred by the worker's compensation exclusive remedy rule.
Slocum v Farm Bureau and USAA, 328 Mich App 626 (2019) — Successfully obtained an Order from the Court of Appeals directing the defendant insurer's in this case to pay no-fault survivors loss benefits for the full cost of purchasing replacement health insurance for the surviving widow and three minor children of a deceased motorcyclist.
Professional Associations
State Bar of Michigan
State Bar of Michigan – Appellate Practice Section
Michigan Supreme Court Historical Society
Michigan Association for Justice
The National Trial Lawyers Association
Coalition Protecting Auto No-Fault (CPAN)
Ingham County Bar Association
American Bar Association
Awards and Recognition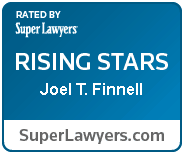 In 2019, Western Michigan University Thomas M. Cooley Law Review selected Joel's brief, co-authored with Sinas Dramis partner, Stephen Sinas, as the recipient of its prestigious annual Distinguished Brief Award. Michigan Super Lawyers recognized Joel as a "Rising Star" from 2015-2020, a designation given to only 2.5% of all eligible Michigan attorneys. In 2017 and 2018, The National Trial Lawyers also recognized Joel as being a "Top 40 Under 40" trial lawyer in Michigan. Furthermore, Joel is also named a "Top 100" by The National Trial Lawyers in 2019.

Speaking Engagements
Survivor's Loss and Work Loss Benefits, No-Falt Institute XVI, October 2019
No-Fault Tort Threshold Update, No-Fault Institute – Co-author
Publications
In addition to his appellate practice, Joel co-authors several publications dealing with the auto no-fault law that are relied on by practitioners throughout the State, including Sinas & Finnell, Tort Threshold Update (Lansing: ICLE, 2014-2018); and Sinas & Finnell, The No-Fault Tort Threshold: An Annual Survey of the Law (Lansing: Michigan Association for Justice, 2014-2017). He is also a regular contributing author to the No-Fault Red Book Online.   
Additional publications include:
Delay, Deny, Defend – Tactics Insurance Companies Use to Avoid Paying Claims
Auto No-Fault Intentional Injuries Exclusion – You Don't Have to Prove Innocence
How "Don't Worry About It" Can Lead to Car Insurance Fraud
"Tort Threshold Update" ICLE No-Fault Summit, 2020
"The No-Fault Tort Threshold: An Annual Survey of the Law" – Michigan Association for Justice, 2019
AutoNoFaultLaw.com Digital Library – Regular contributor and editor
Education
B.S., Eastern Michigan University, 2001
J.D., Thomas M. Cooley Law School, 2011
Admissions
State Bar of Michigan
United States District Court for the Western District of Michigan
United States District Court for the Southern District of Illinois
United States Court of Appeals for the Sixth Circuit
United States District Court for the Eastern District of Michigan
The Supreme Court of the United States
Connect with Joel Finnell

 joelfinnell@sinasdramis.com