Kevin Z. Komar
Kevin Komar has practiced personal injury law since 2000. He is dedicated to advocating for the rights of the injured and attaining the services and compensation they are entitled to. With an extensive understanding of the Michigan auto no-fault system, Kevin passionately pursues claims for individuals experiencing no-fault and PIP benefit payment issues.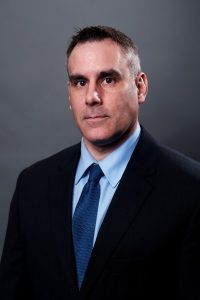 In his 18 years of injury practice, Kevin has also handled construction accident claims, medical malpractice suits, wrongful death actions, and premises liability claims.
Prior to joining Sinas Dramis Law Firm, Kevin was a litigator in metro Detroit and obtained many substantial verdicts and settlements for his clients against some of the largest law firms in the country and even the U.S. Government. Some of his more noteworthy personal injury awards include a $2.3 million settlement and a $1.18 million verdict. However, his most satisfying verdict was a small one he obtained against an insurance company for a client who was homeless.
"If you can help someone, even just a little bit, then all the effort is worth it," Kevin says.
In 2017, Kevin brought that experience and recognition with him to Sinas Dramis Law Firm as a welcome addition to the firm's Michigan personal injury team. Since then, his success in the courtroom as well as negotiating outside court has only continued to grow.
Aside from exceptional results, Kevin brings something truly unique to his practice. With a confident yet relaxed approach, he encourages trust and comradery to build a valuable partnership between himself, his staff, and his clients. This element alone sets him apart in the field of personal injury work. Kevin is usually the first lawyer in the office every day and is not intimidated by any task. This work ethic, combined with his ability to technically analyze the facts of a case from beginning to end, allows him to recognize the important legal issues facing a client. Kevin works continuously to make sure clients understand the legal system because he knows no client's case is identical to another.
"Everyone is affected in different ways when tragedy happens since no two people share the exact same lives. It's our goal to zealously advocate for our clients, to find out what makes a case different and how the law can affect our client.  In order to accomplish these goals, you need to take the time to understand the person and not just the facts."
Outside the office, Kevin Komar is a dedicated father and husband who loves coaching his kids' sports teams, as community is important to him. When he is not on the field, you can usually find him trying to squeeze in a workout or ride on his mountain bike.
Practice Areas
Personal injury, auto accidents, motorcycle accidents, semi-truck accidents, wrongful death claims, construction site accidents, governmental liability, animal bites, premises liability claims, no-fault litigation
Noteworthy Cases
$625,000 Settlement on behalf of a client who was injured in a t-bone accident when the other driver disregarded a stop sign, sustaining numerous fractures and injuries.

$505,000 On Behalf of a client who sustained injuries in a car accident, including a small brain bleed and subsequent stroke leading to extensive PT, OT, and speech therapies.

$430,000 PIP settlement on behalf of a client who sustained significant injuries when his motor vehicle left the roadway and struck a tree.

 $100,000 Wrongful death settlement on behalf of an elderly woman who left her nursing home unattended at night, slipped and fell on a sidewalk outside, and ultimately succumbed to complications of the injuries she sustained.
Professional Associations
Michigan Association for Justice – Member & Former Executive Board Member
State Bar of Michigan
State Bar of Michigan Negligence Law Section – Member
Ingham County Bar Association
Livingston County Bar Association
Coalition Protecting Auto No-Fault
Awards
Michigan Super Lawyers – 2020
Speaking Engagements
"Navigating the Chaos of the Dramatic No-Fault Changes"
Kevin has been a speaker on No-Fault Law issues for medical providers and has also lectured on the issues of attendant care and wage loss for Michigan Association for Justice.
Publications
State official encouraging insurers to be flexibly on payment of insurance premiums – Macomb County and Detroit Legal News – May 2020
Education
B.S., University of Michigan,1997
J.D., Indiana University School of Law at Bloomington, 2000
Admissions

Michigan, 2000
Connect with Kevin Komar

kevinkomar@sinasdramis.com