Car Insurance Phone Apps: Beware the Convenience Temptation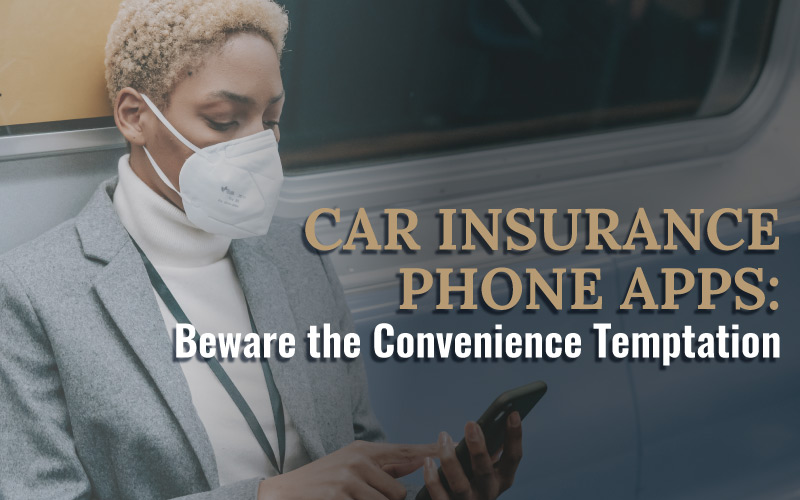 In today's day and age, the entire digital world seems to be at our fingertips, especially on our phones. The 2019 global coronavirus pandemic and the shift to remote work and closed brick-and-mortar businesses have only furthered this shifting trend. Every business seems to have its own phone app now – from health and fitness to grocery delivery, meal prep kits, and everything in between, including car insurance phone apps. We can buy cars online and even process all of our mortgage paperwork now through photos and uploads. This may all be well and good for those procedures because numerous sets of eyes will be looking over every document and dedicated customer service representative to ensure you get what you need. However, the same cannot be said for purchasing insurance through a mobile app. Any inconsistencies in documentation, failed uploads, missing signatures, or the like, could ultimately void your auto insurance policy altogether, leading to catastrophic consequences in the event of a serious car accident.
Car Insurance Phone Apps
Current trends do not exclude insurance companies. Many insurance companies continually try to get consumers to get online technology, particularly via car insurance phone apps, to purchase or change policies all in the name of "convenience." And first glance, it may in fact seem convenient, but in retrospect, can lead to disastrous outcomes. As a Michigan car accident lawyer, in cases I have personally handled, I have witnessed this firsthand, and it is my advice that consumers never purchase or change auto insurance policies online or through a mobile phone app. For example, if you don't provide enough information or the right information, or you guess when you don't understand the question when purchasing insurance via a mobile app, your insurance company will use that as a basis to deny a claim and cancel your policy altogether. In the event of a car accident, this could leave you with thousands of unpaid medical expenses.
Remember, your auto no-fault benefits you purchase compensate for allowable expense benefits (medical bills), replacement services (such as daily chores you can no longer do), wage replacement, and survivor's loss benefits. Failing to accurately convey the correct information to your insurer may lead to the termination of your no-fault policy completely, leaving you with nowhere to turn to recover these damages.
Don't Fall for the Temptation of Convenience When Purchasing Auto Insurance
It may be tempting to buy a policy online or through car insurance phone apps. I've noticed this is particularly true for young adults looking for a quick, convenient solution. But if you make a mistake on a question, or guess about information the insurance company wants from you, they can deny your claim and tear up your insurance policy altogether. Unfortunately, this is the new trend I see insurance companies doing – baiting young people into purchasing an auto policy online and then rescinding the policy based on information that was provided through their app.
Always Work with an Agent to Get Auto Insurance Coverage
When purchasing automobile insurance, it's best to work directly with an agent so that the agent can ask the appropriate questions and, more importantly, the correct follow-up questions to ensure you're getting the coverage you truly need. Agents must ensure correct information and can explain any parts of the policy you may not fully understand. Additionally, as a new requirement under the Michigan Auto No-Fault Reform of 2019, insurance companies must now explain the new options available to consumers, as well as the potential risks of opting into each coverage level. Finally, our firm always recommends that you make any adjustments to your auto insurance policy in writing in order to have a paper trail should you need it in the future.
Authored by Michigan auto accident lawyer, Kevin Komar
RELATED READING