Sinas Dramis Law Firm Opens Office In Ann Arbor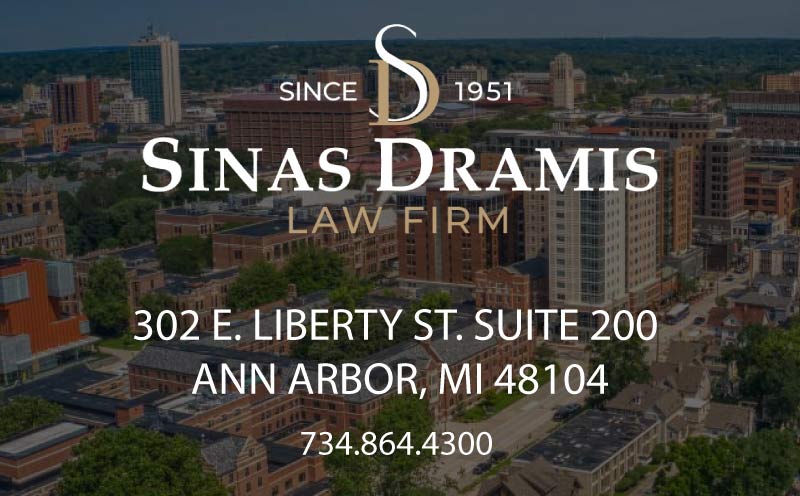 Sinas Dramis Law Firm is proud to continue our commitment to serving all of those injured in Michigan regardless of location, with the opening of our office in Ann Arbor.
The office is located at:
302 E Liberty St Suite 200, Ann Arbor, MI 48104
The addition of this new space reinforces our commitment to continuing the over 70-year tradition of legal excellence provided by the attorneys at Sinas Dramis Law Firm. Throughout the last seven decades, our attorneys have handled a number of Michigan personal injury cases including:
In the ever-expanding city of Ann Arbor, we strive to provide a trusted resource for those injured due to the negligence of another. As a highly populated city with biking and pedestrians on foot, we hope in addition to trusted legal representation, we can also provide resources and education to the community to help reduce the number of accidents involving those traveling outside of a motor vehicle and those on the road. With Sinas Dramis, Ann Arbor gets a firm with specialized experience with Michigan auto no-fault laws, and motor vehicle collisions of many types.
Sinas Dramis Law Firm Office Location History
Sinas Dramis Law Firm was founded in 1951 when the first office doors were opened in Lansing in the Olds Tower Building in downtown Lansing (now Boji Tower). After several moves within Lansing, in 1999, the firm erected the building that is now our main location at 3380 Pine Tree Road in Lansing, Michigan. The firm continued to expand in July 2013, in order to better serve our West Michigan clients, the firm opened an office in the heart of downtown Grand Rapids. In 2019 the firm continued our mission of statewide service, opening offices in Kalamazoo, and Metro Detroit.
In the 70+ years of operation in Michigan, our attorneys have built a strong reputation of commitment to our clients and protecting the rights of those who have been injured. As such through representation and education, we have gained the respect of both the bench and bar statewide, as well as the communities we diligently serve. Our firm proudly handles cases anywhere in Michigan and provides everyone with a free consultation.