The Rights of an On-Duty Police Officer Injured in a Michigan Car Crash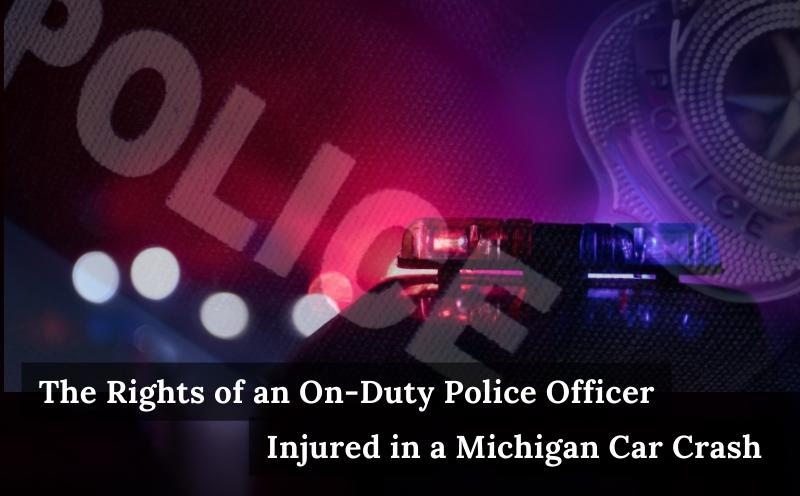 Unfortunately, in Michigan and across the country car crashes happen every day. Equally unfortunate, they can happen to anyone, and that includes first responders such as police officers. In fact, all too often you hear on the news that an officer was involved in a crash, whether it be a traffic stop, high-speed pursuit, or just a standard crash whilst driving down the road. Throughout the firm's 70+ years of handling personal injury cases, Sinas Dramis Law Firm attorneys have handled auto accident cases involving police officers, and understand the complexities, and challenges those officers face if they are seriously injured in a car crash while in the line of duty. In a recent appearance on WLAJ's "In the Name of the Law,"  attorney Stephen Sinas explained the rights of an on-duty police officer injured in a Michigan car crash, and what every officer should know about their department's insurance coverage.
Understanding the Rights of an On-Duty Police Officer Injured in a Michigan Car Crash
Like all Michigan motorists, police officers injured in an accident while on the job have rights under the state's auto no-fault law as well as workers comp laws.  These two insurance systems provide coverage for the injured person's medical care and lost wages.
In some cases, the officer may have the right to pursue a civil claim against the driver who caused the crash. . Like anyone injured in a crash in Michigan, if a police officer is able to file a claim against an at-fault driver, the amount of money they can recover from the at-fault driver is typically limited by the coverage the negligent driver has on their own insurance policy. In a situation where the police officer is injured by an at-fault driver that does have insurance or does not have enough insurance coverage for the police officer's damages, the police officers could have the right to pursue an underinsured/uninsured claim if the at-fault driver. However, the extent to which a police officer injured in a police vehicle can pursue a claim for uninsured or underinsured motorist coverage will often depend on whether the police department insured its vehicles with that kind of coverage and to what extent it did so.
Stephen Sinas & DeWitt Township Police Officer Bob Stump
Stephen Sinas has represented injured clients across Michigan for nearly 15 years and specializes in serious or fatal crashes involving motor vehicles, semi-trucks, motorcycles, and bicycles. In 2020, he began representing DeWitt Township police officer Robert Stump. Stump sustained life-threatening injuries when his patrol vehicle was involved in a crash caused by a fleeing suspect. In addition to a concussion, and back pain, Stump also had a major injury to his hip, where the impact of the crash caused the hip bone to break out of the back side of the hip socket. Stump's injuries left him unable to work for several months, required surgery, extensive rehabilitation, and ongoing functional limitations in his leg and hip.
While representing Stump, Steve has helped navigate challenges in pursuing claims for medical expenses and lost wages, under both Michigan auto no-fault law and workers compensation law. Additionally, he helped in pursuing a claim against the suspect who caused the crash. Unfortunately, the at-fault driver only had $50,000 in liability insurance. Considering that Bob's damages for his permanent injuries greatly exceeded $50,000, Bob pursued a claim for underinsured motorist coverage under the insurance coverage that Dewitt Township Police Department but to Robert's dismay, DeWitt Township Police Department purchased underinsured coverage s in a limited amount that only provided for an additional $50,000 of coverage. In the personal injury auto accident realm, a case like Robert's involving severe and permanent injuries, is worth much more than the $100,000. . This limited recovery could have been avoided if his police department simply had purchased a greater amount of underinsured coverage.
Hopefully, Robert's case will bring more awareness to the problem of police departments not buying enough uninsured and underinsured motorist coverage on their patrol vehicles.  Police departments should pay a bit more to increase this form of coverage to better protect those police officers injured in car crashes in the line of duty.
What Police Officers Should Know About On-Duty Crashes and Coverage
Police officers need to consider the following if seriously injured in a patrol vehicle crash:
Workers Comp Claims
Michigan Auto No-Fault Insurance Claims ( The department's policy & their personal policy)
Claims Against At-Fault Parties (Sometimes this can be more than one party)
Underinsured Motorist Coverage
It's suggested that police officers ask their department what kind of coverage they have in place for officers injured in auto accidents while on duty. Unfortunately, in many cases, underinsured/uninsured coverage is not included, or there isn't enough to fully help the officer cover their expenses. Sinas Dramis strongly recommends that police departments ensure their police vehicles with a significant amount of uninsured and underinsured motorist coverage.   While it will increase police departments' premiums by a small amount, it's easy to add and can make a huge difference for police officers seriously injured while in n a police vehicle.
Contacting an Experienced Auto Accident Attorney and Firm to Handle Your Case
Regardless of who you are, or what you do for a living, a car crash can change your and your loved one's lives permanently. Now more than ever in Michigan, following the reform of the state's auto no-fault laws, you need an attorney who's experienced and will fight for your rights and benefits. Every crash is different, and injuries sustained, and their impact can vary from person to person, meaning there isn't a one-size-fits-all approach. At Sinas Dramis Law Firm, we understand the complicated challenges you may face, and we know what it takes to ensure you get the compensation you deserve when injured because of someone else's negligence. We offer free consultation statewide and have offices in Lansing, Grand Rapids, Kalamazoo, and Metro Detroit; we will also come to you if desired.