Tom Sinas Joins Short List of Michigan Attorneys Elected to International Society of Barristers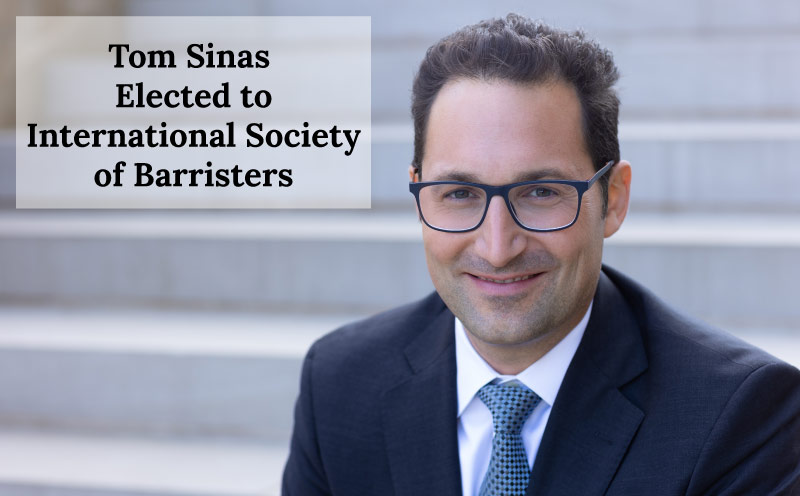 Sinas Dramis Law Firm is proud to announce the election of firm shareholder Tom Sinas to the International Society of Barristers (ISOB). Formed in 1965, the society aims to bring together some of the best legal minds in the country in support of several goals. Some of those goals include retaining trial by jury, improving advocacy in the adversarial system, and protecting the rights of citizens, the independence of the judiciary, and the integrity of the Bar.
Membership to the International Society of Barristers is by invitation only and includes nomination from another member, followed by an in-depth screening process that involves other lawyers and judicial officials to ensure those invited meet a high standard of ethics and civility. According to the ISOB, to be eligible for membership one must have: "Exceptional talent whose qualities including integrity, honor, and collegiality embody the spirit of the true professional." Tom joins just 13 other lawyers in Michigan who are current members. This election is particularly meaningful to Tom because one of the most important mentors in his career, Kathleen Flynn Peterson, is the current President of the ISOB.
Tom is a 2006 magna cum laude graduate of the law school at the University of Minnesota. After passing the bar, Tom began his career with a national law firm in Minneapolis, where he represented catastrophically injured individuals and their families. He was then selected to join Minnesota's premier state prosecution office on a special assignment to prosecute complex financial crimes. In 2013, he returned to Michigan, where he opened the Sinas Dramis Grand Rapids office location, continuing the now 70+ year tradition of legal excellence started by his grandfather in 1951. Since then, Tom has built a reputation in West Michigan as a dedicated personal injury attorney, serving those wrongfully injured in Michigan both in and out of the courtroom.
Tom is the current president of the Brain Injury Association of Michigan's board of directors. He was rated "Best Personal Injury Attorney in Grand Rapids" by Grand Rapids Magazine and is recognized on a number of lists by Leading Lawyers and Super Lawyers.
Please Join everyone at Sinas Dramis Law Firm in congratulating Tom on this very deserved election to the International Society of Barristers.