Tom Sinas New Chairperson of Brain Injury Association of Michigan's Board of Directors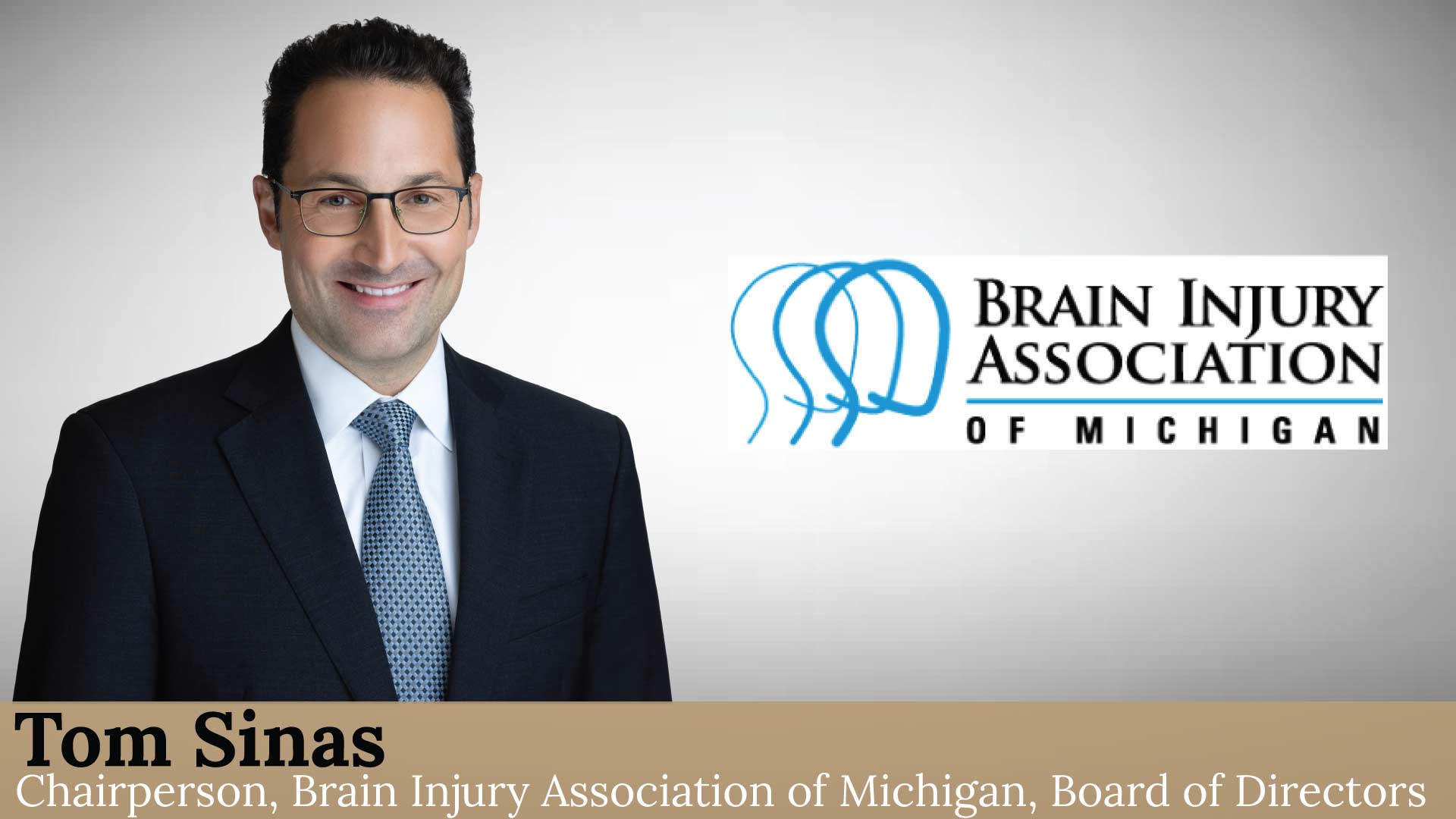 On May 25th, 2022, Michigan personal injury attorney and Sinas Dramis Law Firm partner, Tom Sinas was sworn in as Chairperson for the Brain Injury Association of Michigan's (BIAMI) Board of Directors. Tom is only the second attorney to hold the position of Chairperson for the organization.  He first joined the board in 2015 and has previously held the positions of Vice-Chairperson and Secretary. BIAMI's self-stated mission is "to improve the lives of those affected by brain injury and reduce the incidence and impact of brain injury through advocacy, awareness, education, prevention, research, and support." Tom considers his role with the organization an honor and is ready to help continue the good work already being done by the organization. 
"It is truly an honor to be asked to serve as BIAMI Board Chair.  The organization has played a vital role for decades in serving and advocating for those Michiganders with brain injuries, some of whom our law firm has also had the privilege of representing.  I look forward to working with BIAMI's outstanding staff and my talented fellow board members to help the organization continue its important mission." 
As a Michigan Brain Injury Attorney, Tom has always believed that there is nothing more important than a person's well-being and health. That's why as a lawyer he considers it a privilege to advocate on behalf of those who are injured. As Chairperson, he will continue that advocacy, along with his colleagues, in supporting the organization's mission of helping brain injury survivors. Thomas Constand, President and CEO of BIAMI, says Tom's continued work with BIAMI at the helm of the board is invaluable to the organization. 
"Tom Sinas has been an integral member of the board for several years now, and his work with BIAMI extends even beyond his years of service. As a passionate advocate for those injured in Michigan, in tandem with his experience representing brain injury survivors and their families, Tom is both highly qualified and well suited to be Chairperson of the Board of Directors." Said Constand. "I know he will help ensure we continue our mission of improving the lives of those affected by brain injury in Michigan." 
 Tom is a partner at Sinas Dramis Law Firm and manages the Grand Rapids office, which was opened when he joined the firm in 2013. Tom attended law school in Minnesota, where he also worked for several years with a national law firm and later joined Minnesota's premier state prosecution office. While Tom represents clients across the state, he's passionate about serving the West Michigan community, both in and out of the courtroom. Many might recognize him from his "Know the Law" TV segment, which he started in partnership with Fox 17 News. The segment has allowed him to help educate the community about legal topics related to personal injury law as well as other areas of the law that affect people's everyday lives. 
As a lawyer, Tom has received significant recognition for his work from both his clients and his peers in the legal community. These include being recognized by Grand Rapids Magazine as one of the city's Top Lawyers for the last three consecutive years and being recognized as the Best Personal Injury Lawyer in  Grand Rapids for 2021. In addition, Tom is also recognized by both Michigan Super Lawyers and Leading Lawyers. As for his clients, one of them said it best when they spoke about his compassion, and dedication to each and every case he's taken: 
"Tom is one of the most professional, compassionate, kind-hearted, diligent, experienced, and resolute professionals you will ever encounter…He and his staff are nothing short of amazing with staying on top of your case and they ALWAYS keep their clients' best interests at heart…Do yourself and your family a favor and call Tom Sinas if you find yourself in need of a remarkable attorney." 
Tom's job as a personal injury attorney is a lot more than just a career for him, as is his work with the Brain Injury Association of Michigan. In his own words, there's nothing more important than standing up for those who need help. 
"Everyone deserves to be treated fairly no matter where they're from, no matter their education, no matter their background. If they have had some aspect of their health or their independence taken from them, there's nothing more important than standing up for them." ~ Tom Sinas 
To read more about Tom and his career as an attorney click here.