That's a Wrap – Looking Back on Another Successful Lids for Kids Season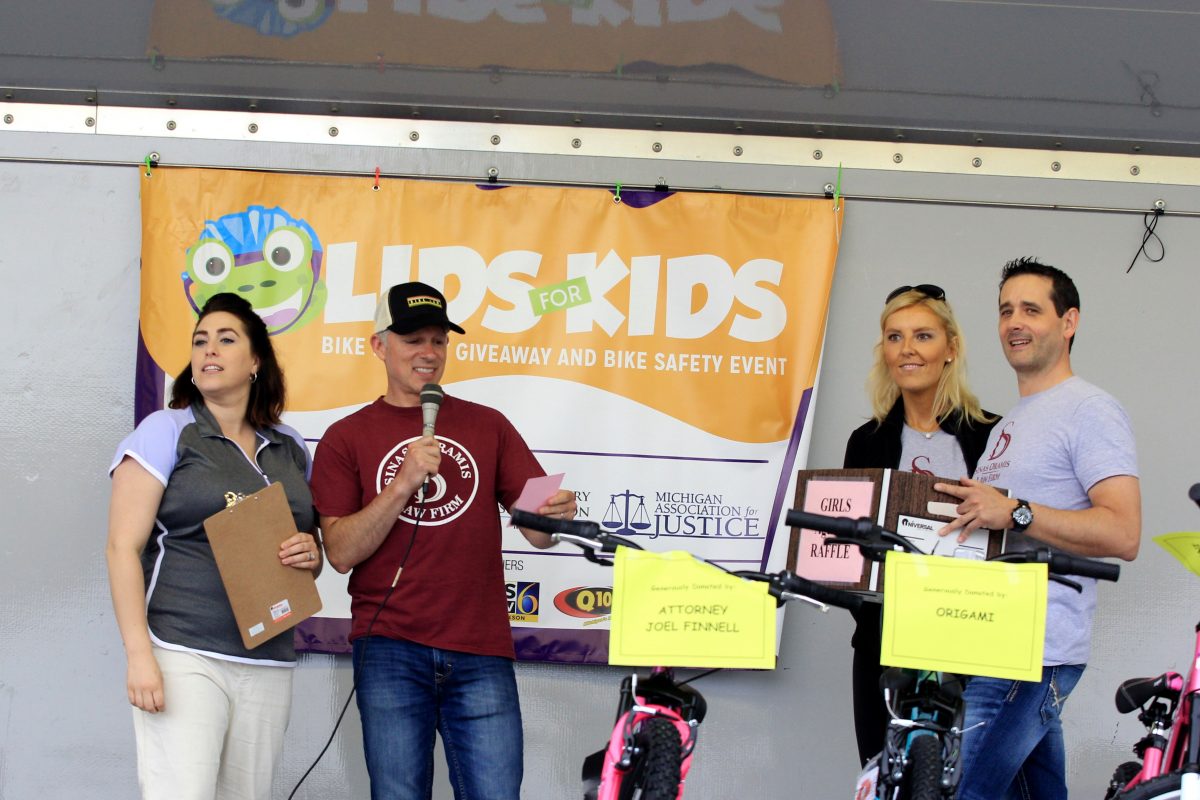 Update: We are pleased to announce that Lids for Kids – Michigan's premier bicycle helmet fitting and giveaway event – is returning for the 2022 season in Lansing and Grand Rapids! The Traverse City event is postponed this year. Learn more about Lansing Lids for Kids here and Grand Rapids Lids for Kids here.
Spring 2019 was another full and exciting season for Sinas Dramis Law Firm. Last Saturday we hosted our third and final Lids for Kids bike helmet giveaway of the year. To say the three events – held in Traverse City, Lansing, and Grand Rapids – were a success is an understatement. In case you missed it, here are some of our favorite 2018 highlights.
Traverse City
Since Traverse City is first to host its Lids for Kids event every year, sponsors, volunteers, and event-goers have traditionally braved less than ideal weather conditions.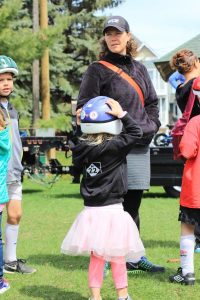 This year, however, was different. With sunny skies and an incredible turnout, 2018 was undoubtedly the most successful year for Traverse City. More than 500 helmets were fitted and handed out to northern Michigan kids. Our amazing local partners once again made the event spectacular with a bike raffle, fire engine tours, a police cruiser and motorcycle, and much more.
Thanks again to our co-sponsors, Brain Injury Association of Michigan and Agevix Professional Network for Exercise Therapy, as well as our community partners, McLain Cycle & Fitness, Traverse City Area Public Schools, Norte Youth Cycling, Grand Traverse Woman Magazine, WTCM NewsTalk Radio 580, GoGo SqueeZ, and Grand Traverse Construction.
Lansing
In a total flip-flop from the previous weekend, Lansing's Lids for Kids event was met with gray skies and showers. Despite the conditions, families turned out in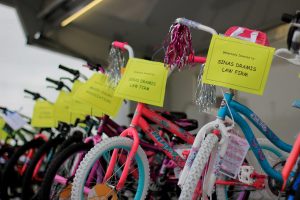 droves and more than 500 kids were properly fitted with a free bike helmet. In its sixteenth season, the 2018 Lansing event was one of the most successful yet, thanks to our incredible partners who all brought fun and exciting activities this year, including the ever-popular Sharon Shutes and her incredible face painting, a helmet decorating station, and appearances by Sparty and Big Lug!
We are so grateful for the support of our amazing co-sponsors, Brain Injury Association of Michigan, Origami Brain Injury Rehabilitation Center, and Michigan Association for Justice. A big shout-out to Lansing community partners, including WLAJ, WLNS, Q106, Lansing Masons, Lansing Police Department, and especially Lansing Fire Department Marshall Street Station for their warm hospitality year after year.
Grand Rapids
Our June 9th Lids for Kids event proved that West Michigan remains undaunted by weather. Even in a complete downpour, families began lining up an hour early to make sure their kids were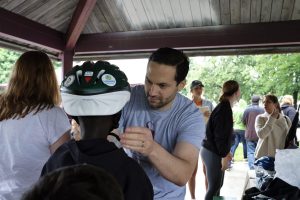 fitted with bike helmets. In just two hours, over 550 kids received a helmet. Other highlights included appearances by Thor, Super Girl, and Spiderman, face painting, temporary tattoos, and basic bicycle tune-ups.
We couldn't have done it without our amazing co-sponsor Brain Injury Association of Michigan and event partners Hope Network, Mary Free Bed, Grand Rapids Public Schools, Fox 17, Grand Rapids Fire Department, and Garfield Park Neighborhoods Association. A special shout out to Mayor Bliss for stopping by, Boston Square Community Bikes, GoGo SqueeZ, and the Cosplay Crusaders for making this year truly special for the kids.
1,560 Bike Helmets Fitted at 2018 Lids for Kids Events
With a total of 1,560 helmets fitted and given away to Michigan kids, this year's Lids for Kids events were ones to remember. For up-to-date event information, follow us on Facebook.