Beware: AAA Insurance Is Using "Step-Down" Clauses In Its Auto Policies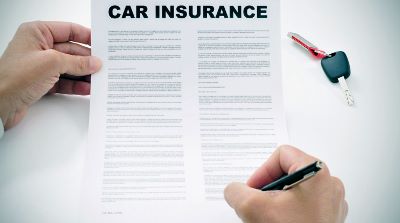 For some time, we've been cautioning Michigan consumers about "step-down" auto insurance clauses. Step-down clauses are a nightmare for families because they drastically limit coverage for relatives who are injured while riding in the insured's vehicle. The companies that use these repugnant clauses are GEICO, USAA, Progressive, Farm Bureau and Grange. Now, we're adding AAA Insurance to the list.
Warning: if you have a policy with AAA Insurance, pay close attention when you get your renewal notice. Based on information that we've received, AAA no-fault policies issued as of August 1, 2017, will include a step-down provision (also called an "intra-family exclusionary" clause).
Why are step-down clauses so repulsive? Because they treat family members of the insured harsher than total strangers. Under a step-down provision, a loved one who's injured in a Michigan car accident while riding in the insured's vehicle is entitled to only $20,000 in liability coverage (the state-mandated minimum), no matter how much insurance was purchased. Meanwhile, a person unrelated to the insured who is injured while riding in the insured's vehicle is able to make a claim up to the policy limits.
---
Notice Of AAA Insurance Step-Down Clause
AAA is currently sending notices to policyholders, advising them it is "making changes" and these changes apply to "all policies written or renewing on August 1, 2017 and later." Here's an example of a notice that was sent to a AAA insured: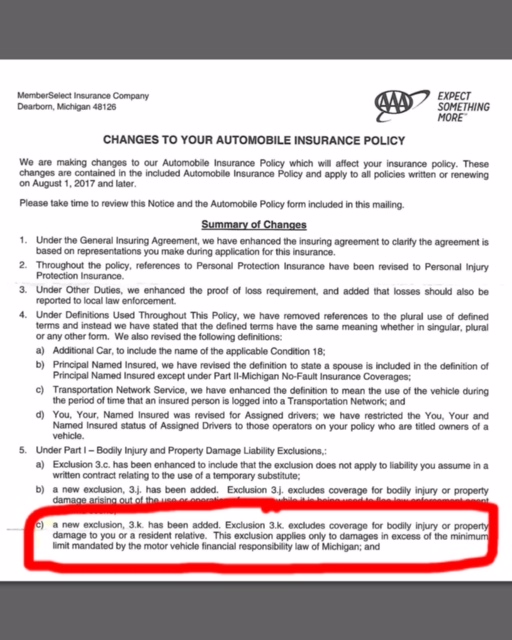 Look at item 5 and the language circled in red. It says:
"Under Part I – Bodily Injury and Property Damage Liability Exclusions: … c) a new exclusion, 3.k. has been added. Exclusion 3.k. excludes coverage for bodily injury or property damage to you or a resident relative. This exclusion applies only to damages in excess of the minimum limit mandated by the motor vehicle financial responsibility law of Michigan …."
This is standard step-down language — that is, the policy "excludes coverage for bodily injury or property damage to you or a resident relative." This language makes it clear that AAA is limiting its liability in the event of an accident where a relative is in the vehicle and is injured.
Remember: Michigan motorists purchase auto no-fault insurance not only because state law requires it, but also to protect themselves and their loved ones in the event of a crash. When buying auto insurance, vehicle owners usually think their policy will not only cover them in an accident, but also their family members who are injured while riding with them. But that's not the case if the policy includes a step-down provision.
---
AAA Insurance Step-Down Clause: How Does It Work?
Here's how the AAA step-down clause (and any other standard step-down clause) works.
Suppose a vehicle owner has $500,000 worth of coverage on her Chevy Impala and her policy includes a step-down clause. Suppose the owner is driving the Impala with her 6-year-old daughter and her daughter's 5-year-old friend in the backseat. Suppose the driver causes a crash and the two girls are seriously injured. You'd think that both girls could make a claim up to the driver's $500,000 limits, right?
Wrong. That's not what happens when a policy includes a step-down clause. Instead, the step-down provision limits recovery for the driver's own daughter, capping the insurer's liability at the state-mandated minimum of $20,000. However, the daughter's 5-year-old friend can make a claim up to the insured's policy limits of $500,000.
Does this seem fair? Our Michigan car accident attorneys don't think so, and that's why we're pushing for step-down provisions to be eliminated.
---
Step-Down Provisions Are Shameful, But Legal (For Now)
Step-down clauses are currently legal. The Michigan appellate courts have consistently upheld their use and the Insurance Commissioner has done nothing to get rid of them. In fact, the Commissioner could easily end the shameful practice, but has not done so.
Insurance companies claim they use step-down provisions to help curtail insurance fraud. But that argument doesn't hold water, for several reasons:
insurance policies usually include language regarding fraudulent claims.
Michigan already makes it a crime to commit insurance fraud [MCL 500.4511(1)].
the injured person has the burden of proving their case and, to the extent that an insurance carrier believes a family member filing a liability claim against another family member's policy is unsupported, the insurer has plenty of tools at its disposal to dispute the claim.
While AAA Insurance has now begun using step-down clauses, take note the following insurers still do not include step-down provisions in their standard policies:  Auto-Owners/Home-Owners, Liberty Mutual, Citizens, State Farm and Allstate.
As a consumer who pays for Michigan no-fault insurance, you can send a message that step-down clauses should be abolished. Call the Michigan Insurance Commissioner at 877-999-6442 or email the Michigan Department of Insurance and Financial Services at difs-ins-info@michigan.gov.
Sinas Dramis is dedicated to making sure Michigan residents understand their rights under the no-fault insurance policies they purchase. If you're uncertain whether your policy includes a step-down provision, contact our Grand Rapids auto accident lawyers or Lansing car accident attorneys. For more than six decades, our legal experts have helped those injured in accidents get the compensation and no-fault benefits they deserve.