National Brain Injury Awareness Month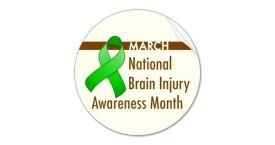 Think of any food, activity, or cause and there is probably a month or day dedicated in its honor. October is National Pizza Month. February is National Bird Feeding Month. March, however, is truly significant in that it is National Brain Injury Awareness Month.
As a law firm specializing in the area of personal injury, we understand the profound impact brain injuries can have on individuals and their families. In the past, the issue of brain injuries remained out of the spotlight. But thanks to the controversy embroiling the National Football League, the issue has received much more attention as of late. And rightfully so — the Center for Disease Control and Prevention estimates that at least 1.7 million traumatic brain injuries occur in the United States each year, many of which are the result of unpredictable auto accidents.
That's why it is encouraging to see that two United States Congressman, Bill Pascrell and Thomas J. Rooney, have taken a particular interest in the issue and announced recently that they intend to reintroduce the Traumatic Brain Injury Act. The proposed legislation would continue funding for research and treatment of brain injury victims across the nation.
Irrespective of the action at the federal level, Michigan residents are lucky in that we have the Michigan No-Fault Automobile Insurance Act. The No-Fault Act provides life-time medical benefits to those who have been involved in motor vehicle accidents. This generous system is especially important for those have suffered traumatic brain injuries as treatment for these individuals can extend far into the future.
It's great to see the topic of brain injuries finally getting the attention it deserves. Hopefully this heightened attention will continue.